Craft project for kids, please make a suggestion

Northern Mariana Islands
July 1, 2007 5:35am CST
I have three kids ages 9, 5 and turning 2, they love to color and use scissors and glue to cut and paste pictures. Sadly that's about all we do, I have never been an artist. I have always shown interest but can never create something worth wile…lol… I want them to be more creative than I was at their ages, I have little time to research between Mylot and school…lol… Please give me simple but creative suggestions that are easy to make but can also be fun!
3 responses

• United States
4 Jul 07
Go to the library and check out some books with kids crafts in them. Let your kids decide what they want to do. They probably need to be exposed to a lot of different ideas to help hatch ideas of their own.

• Canada
1 Jul 07
Why not take a paper towel roll tube and some construction paper and make a rocket? To make the top part, just cut a circle out of the construction paper, then cut a 'pie piece' out of the circle. Pull the edges of the remainder of the circle together, and you'll get a cone. Use the construction paper to make fins, and then decorate.

• United States
4 Jul 07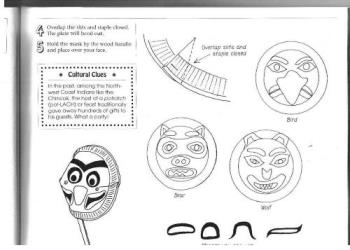 I'm attaching some instructions to make face masks with a Native American theme. Once they are made, the kids can pretend with them. You'll need paper plates, markers, hole puncher, scissors and popcicle sticks. You can glue or staple the plate to the popcicle stick after decorating.

• United States
11 Jul 07
Rubber stamps and ink pads, embossing, etc. are all the rage now and they are easy enough for kids to make their own cards. Teaching them to cook is also fun for them as well as a great life skill.