I'm just trying to figure out how this photo upload option on myLot works.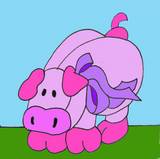 United States
July 28, 2007 9:25pm CST
This is just a sketch I made of one of my stuffed animals. Her name is Porcelain and I guess you can all tell that she is supposed to be a pig. If I get any encouragement here, then I'll probably put up photos of more of my drawings and paintings. Do you think I should be spending more time drawing and less time on myLot?
3 responses

• Philippines
4 Aug 07
Hello drannhh, the sketch you made of your stuffed pig is good. Nice details and the color's brilliant, good work. Your very talented keep it up. I think you can do both drawing and mylotting, just a matter of time managing. ;-)

•
29 Jul 07
Yes, most certainly, you have a very individual talent there, Drannhh. I love the use of colours to accentuate your pig, and would love to see some more of your work. There is one small problem... you will have to work a little more on Mylot before you can upload photos, because you obtain this facility at 500 points. So, keep posting for a while, unless you have a website where you can direct us to view your pics. Brightest Blessings and thank you for sharing.

• United States
29 Jul 07
Wow, do you mean that when I hit the magic 500 (I'm almost halfway there!) then I'll be able to put photos in comments, too, and size them and everything? That would be too kewl. PS: I'll go find another drawing right now and post it just for you!

• United States
29 Nov 07