My Naughty Cat hunts!

Australia
August 21, 2007 10:17pm CST
One of my cats does lots of naughty things. We don't have rabbits in the area, so she catches birds, mice, rats & lizards. I don't mind the rats & mice, but the birds, & sometimes the lizards, are native & could be endangered. She also presents them to us at the front door & wants to bring them inside, which I refuse. So she hides them under the trailor instead. When my husband has to move the trailor, he finds all these dead animal bodies. He calls it Scampers graveyard. Is your cat a great hunter, or even your dog?
9 responses


• Australia
22 Aug 07
Its weird the way they think that what they catch, has to be shown & given to us humans. Just like presents.

• Netherlands
23 Aug 07
Hi jennybianca And yes, I understand exactly your problem and am having it myself with my 6 cats. Of the 6 all of them are hunters, even though 2 of the six are daily hunters... and trust me, all the cats are very, very well fed, and are never hungry and running around in search of food. They simply are killers, and love to bring hom especially mice and rats, but birds go killed often also. And not small once, but big birds. The only male cat that I have brought yesterday a crow, can you imagine? And it was a big one that didn't look ill or with a broken wing or whatever. Such a pity really, and i wonder what could be done, if it is in their hormones, and the amounts of food awaiting them at home do not stop them from hunting...

• Australia
3 Sep 07
a Crow, thats amazing, as croiws are big & can be quite nasty too. Mind you, our cat once brought home a pidgeon & proceeded to take ot to my daughters room & pluck it. 6 cats are a lot!

• Netherlands
16 Sep 07
Hi Jenny and thank you for the BR - really appreciate it ;) Yup 6 cats are a lot, and we only had 2 to begin with. However we had neighbors who took cats but left these behind when they relocated. The poor dears were so upset, and hungry and crying on my door that i couldn't bear to leave these homeless or call the animal centrum in town, due to many being killed in there if no one takes the cat within a month or 2. So I have been the "Mother Theresa" for these poor babies, and am glad I took them, even though it's hard to look after so many due to how much a proper care for that many cats is, and I can defnitely not take any extra cat from now on ;)

• United States
22 Aug 07
I have a cat that hunts for squirrels! She's gotten quite a few of them and left me the details in one place or another. She's gotten everything else too that are smaller but it just amazes me that she can kill a squirrel.

• Australia
23 Aug 07
I would have thought that squirrels would be much the same size as cats, so yes, your cat is a good hunter.Not that I like the idea of them eating squirrels.

• United States
23 Aug 07
I don't like it either but since we've moved she hasn't done it which I'm happy about. She is a tough gal no doubt and a hunter indeed.

• United States
23 Aug 07
I used to have a cat that was like that. He would present us with his great trophies like he was saying look what I did. lol. eh didn't know how upset he was making mom.I keep the cat i have now,Moose ,In the house but I now if I left him out ,he would be bringing prizes to the door.He goes crazy at the window when he sees the birdies out there. I always tell him to leave the birdies alone,they haven't done nothing to him.I don't think he's listening though

• Australia
3 Sep 07
No, he's not listening. My cats go crazy when they see a bird through the window too.

• United States
22 Aug 07
My 3 cats are indoor cats and they are perfect hunters but only for flies and some moths. I am living in 2nd floor of a 4 flat apartment. And therefor there some times pigeons or some other kind of birds on my balcony. Once one of them caught a bird but i was faster then them i saved the bird with a little injury on its wing. So i kept the bird for few days and made fly after then. Meanwhile i had to keep it in my small toilet which had a cat queue in front door for these days :)

• Australia
23 Aug 07
Our cats like to try & catch fluies & moths too. Good on you, for rescuing the bird.

•
22 Aug 07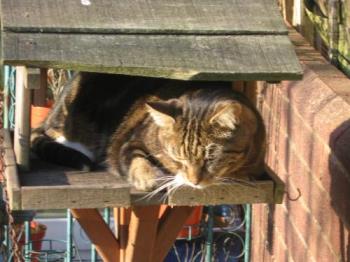 Moomin is a great hunter, and often brings home presents for me. In the past few weeks we have had an assortment of mice and small birds left, lovingly, on the living room carpet. She bagged herself a large spider the other night and sat in front of me chewing on it. It looked like a raisin with legs LOL and she ate the lot with evident pleasure - yuck.

• Australia
23 Aug 07
I loved your photo of Moomin. That would be gross eating a spider. Once, when my cat was a kitten she also caught a large huntsman. I had to get it out of her mouth. Many of our spiders are poisonous.

• Philippines
22 Aug 07
Hey, my dog does that, too. She is very playful that she wants to play with something that moves and can run away from her so she can chase it. Really naughty! I found it cute at first but when she started catching mice I didn't like it anymore and tried to stop her but she won't. Then she got really sick for catching dirty animals and stayed in the clinic for a few days. She seemed to know that these things aren't good for her because she doesn't chase mice anymore --only cockroaches, lizards and still the birds. I don't worry about birds being endangered because my dog never catches them. They fly even before she gets near. She just has fun chasing them.

• Australia
22 Aug 07
Thats terrible, eating mice making your dog so sick. My cats don't seem to get sick from eating mice, or whatever else they catch. My Dalmation has a thing about chasing birds, & going balistic barking at them. And yet, he sits there watching the pidgeons eat his food. Weird!

• Australia
22 Aug 07
Hi Our two cats at the moment don't seem to hunt, well they don't bring us their "goodies" anyway. I'm sure they do or are atleast trying to! But my previous little princess would go away for days (we lived on a farm) and her longest stay from us was 2 weeks (we'd given up hope by then) Anyway when she'd return, her whole bottom lip and chin would be covered in something awful looking, kind of looked like frogs guts / skin. It was so disgusting and she'd always want attention after her hunting trips. Once she made me throw up. But of course she was the princess and always got her way. I think she bit off more than she could chew one day as she was bitten by a snake, luckily she recovered! My mum's dogs are great mouse hunters. Though they never give them up and usually swallow them whole. Gross.

• United States
22 Aug 07
My Buster brought me a rabbit one day with its hind leg dangling. As he dropped it the rabbit hobbled away. I tried to catch it to take it to the local vet but alas it hobbled away all too fast. He litterally climbed the back fence sideways one day trying to catch a squirrel that ran across the top. Kind of like a MATRIX move actually. Wished I'd have had my camera handy that time. But Buster does seem to love trying to hunt the critters in my yard at times. HAPPY POSTINGS FROM GRANDPA BOB !!~

• Australia
22 Aug 07
There are certain breeds of dogs that are hunters, & Buster must be one of those. I had a Jack Russell years ago, a beautifdul dog, but it took me four years to figure out why she was always catching things... they are bred for hunting, rats especially. Now my little mini fox terrier, she catches rats! Not the Dalmation, he can't catch anything!