Dp you like travelling by plane or train?

India
11 responses

• India
27 Sep 07
hello dbhattji, i would say i enjoy both.though now a days due to lack of time i have to travel by plane.train journey is really awesome and enjoyable when you have plenty of time with you and you are on a vacation.and you have done the right choice dbhattji. when i am on a vacation i always prefer long journeys.so even though we have planes available to cut short the journey time,i would go by road or by trains.and moreover i love travelling.it feels nice to look at the nature and scenery. with planes,though its for a short time,but i love being on those clouds.to fly on the sky and then look down from such a height,all these feels exciting. so i would say both have got their own charm.planes are exciting and adventurous and trains are enjoyable.

• United States
3 Feb 08
I love trains and would travel on them a lot more is the US had any good ones. We have only one passenger train and it runs late all the time! I think trains are more relaxing, not to mention much more comfortable than planes or buses. I hope you enjoyed your vacation!


• China
31 Jan 08
it.s so good that in your country train is a relaxing and romantic way of journey. in my country, because there too many people need to take train, it's the most crowded way especially during vacation. even your feet hard to touch the floor. in that time you feel like in hell. if not so many people train is a very good choice. it's safe and could see most sight.

• United Kingdom
19 Jan 08
I love to travel by train and see lovely scenery out of the window. Seats on trains are generally quite comfortable and there is lots of leg room. I like to walk along the train carriage every so often. Sometimes I see really stunning scenery and take a photo. At night I like to sleep in a comfortable compartment. Travel by train is quick but the plane usually flies with view of clouds. However when the plane I was stopped off in Cairo I saw the pyramids. I saw the reef and islands of the Maldives when I flew from Male to Gan. Often seats on aircraft are cramped and little leg room is available. I find the journey uncomfortable but quick and easy to get far away. I am most likely to fly to a far away destination then go on trains or buses if these are not available. New Zealand had a lovely scenic train route from Christchurch past the mountains or up the coast. I loved going on a train in Kenya seeing giraffes at breakfast time. Trains are my favorite form of transport.

• United States
14 Jan 08
With all the restrictions and hassles these days on airlines I would much prefer to ride a train or drive a car. They have increased rules and restrictions on the passenger trains now as well, but are still much more laid back than the terrible infringing airlines.


• Australia
29 Sep 07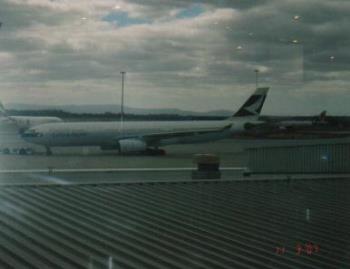 well it depends where I am going. If it in australia well I can go by train if its not so urgent that way I can see more and be more comfortable. But as we dont have any neighbours we are one big island If I have to go to another country I have to fly (or use boat which would totaly freak me out).


• Philippines
28 Sep 07
I have yet to try travelling by train...i read that if you are the type who loves the country side view and have a fear of flying... then travelling by train is the best... Train travel is not popular in my country... the government has yet to develop that mode of transportation...

• Pakistan
27 Sep 07
Thats right a train journey is more enjoying and relaxing then plane journey but most of the times we cannot travel by train due to lack of time so people prefer taking flights which have its own charm specially when takeoff and landing watching the ground from thousends of feet above ........ but in train journey we can see many different places all the time and enjoy every moment on it when we are provided all the facilities there .......... I love both ...........but train is best for vacations