Carved the First Pumpkin!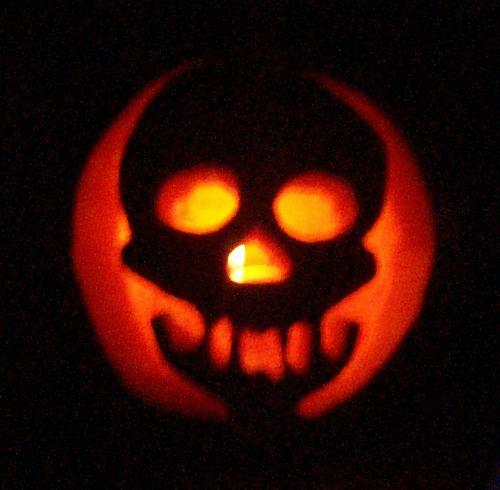 United States
October 18, 2007 3:38pm CST
We went out and got some pumpkins yesterday. I decided I should atleast carve one now and Ill wait till the weekend to do the rest. I didnt want a traditional pumpkin face like we do every year. So I googled pupmkin patterns and found some neat ones. I found the one I wanted and traced it off the computer. Then I taped it to the pumpkin to punch holes. The kids loved taking out his guts. They did a great job at it. It took a few min to carve but it turned out pretty well I think. I like carving pumpkins what about you? Do you make a traditional face?
8 responses

• Canada
19 Oct 07
YAY!I did this once and it became gross inside and well,rotted on me.I would really love to do this with my daughter,but what would be the propriote date to do so now??So it will last long till halloween?By the way,the picture that you put,is it the pumpkin that you guys carved?If so,woohaa its very nice! Peanutjar:)

• United States
19 Oct 07
Depends on the weather. If its hotter you dont want to carve it untill a few days before haloween. If its a cooler temp anytime from now on will be fine. Take some pictures of your daughter doing it. Yes the pic is of the pumpkin we carved!! Its pretty cool right? Heres the one I carved tonight.

• United States
19 Oct 07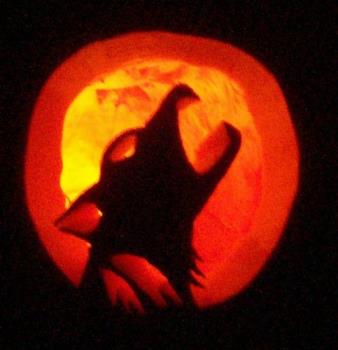 lets try that again. Heres a pic of the pumpkin we carved tonight.

• Canada
20 Oct 07
Hi,well right now its raining and usually its quite nippy outside,haha.Wow!Thats a nice one too,i really like it.Great job!Now if only i could do that,hehehe.What is the best thing for light inside?A tea-light?or just an ordinary candle. Peanutjar:)


• Australia
18 Oct 07
I have never carved a pumpkin face..Halloween is a traditional American thing..(I dont even know the reason behind it), We dont have it here, only for the odd couple of kids knocking on your door saying trick or treat, and when you answer trick they ask for treats...???

• United States
19 Oct 07
Im really not to sure how it came about either. I just know its what we do at halloween. I love to see all the children in there costumes.

• United States
19 Oct 07
That is pretty darned cool! I usually do a traditional face. Call me plain Jane if you will. A couple of years ago we used a pattern from a kit. My grandson helped to gut out the pumpkin and to poke the holes. I carved it. I can't recall what pattern it was.

• United States
20 Oct 07
Well thank you. Im sure that was fun carving a pumpkin with your grandson.


• United States
19 Oct 07
It is really fun. We carved another one today of a wolf howling at the moon. It wanst that hard to do. I cant wait to see it lit up tonight.

• Canada
3 Nov 07
Very nice copperkitten! Your pumpkin turned out great! Joob job. The hubby and I went to the Dollar Store and got some stencils because I too was bored with the traditional triangle happy face. I did a discussion titled Watcha think? and it has a pic of the pumpkins the hubby and I carved. I did the witch face, and he did the flaming skull! Love & Hugzz, PurpleTeddyBear.

•
2 Nov 07
YEh normaly we would just carve traditional ones but this year my sister came down with some templates from the internet so we gave them a shot although some were quite simple and easy to do others that we tried were very hard and fell apart lol so we were putting them back together with bits of wire :). I Did however find a usefull solution to treating them if you get yourself some clear lacker ( stuff used in the last coat for cars) and just spray it all over the pumpkin inside and out then it will keep for about a good month or so. My faviorite one that my sister carved was the face of michal miers from halloween the movie its was really good and quite freaky aswell :)

• United States
21 Oct 07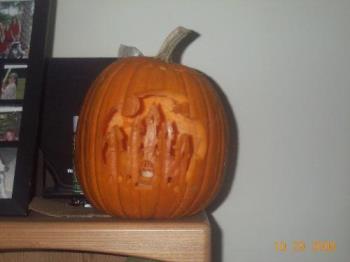 very cool my friend,i love to take my kids and find their own pumpkins and then we carve them and paint them.we made some really neat ones last year.matter of fact we are going next saturday pumpkin pickin,that should be fun.hope all is well.pattie

• United States
19 Oct 07
Nice work Copper. I like it! I like it a lot. As for carving, I only do it rarely. Usually I make a traditional face, a goblin/skull and then try something artzy on the third if there is still time (or even patience).