Fighting With The Santa Ana Winds: Worst Road Conditions You Driven Through?

United States
October 22, 2007 10:27pm CST
So mom and dad tried to make it home last night. There was a red-flag high wind warning in the desert of Southern Cal (we're close to San Diego). They ignored it, thinking they could get home before it got too bad. Long story short: The Santa Ana Winds came barreling down onto them. Two windows were ripped out, frame and all. The storm blew the desert sand into the car. They could hardly breathe. Driving was impossible. Zero visibility. Two fire trucks had to lead about 20 cars to safety. My parents were two pillars of sand by the time they got to our house. The car is totalled really. The engine is done. But they are okay which was our only concern. What's the worst you've driven through?
8 responses

• Finland
24 Oct 07
Oh, dear, that must've been SO SCARY!!! I'm glad your parents are OK! Phew! The worst road conditions we drove through was a week ago. We went to Pori to my hubby's eldest brother's place and when we drove home, it was SO DARK and FOGGY. The fog was SO thick that we had to drive slowly. Plus it was a new city for us, so we didn't dare drive too quickly 'coz we had to pay attention to road signs in order to not get lost. The thick fog covered the road for about 150 km. It felt like we were moving but not really getting anywhere. It felt like we were in the middle of a horror movie he he he he he...

• United States
25 Oct 07
Scary huh? Glad you guys are all right. I wonder if we could ever keep our wits about us in these situations if we would video tape the scary event? I guess those news reporters live for that kind of thing. Yeah, I'm glad my parents are safe. Thanks for stopping by, my friend. Have a nice Finnish afternoon.

• Finland
26 Oct 07
Hi, gtargirl! Gee...keep our wits in those situations? I don't know. You're right, though. Those news reporters are courageous and I think they thrive in those situations he he he... Have a WONDERFUL weekend to you too!!!

• Germany
23 Oct 07
Hi Gtargirl! Wow! That was not very smart to egnore a red-flag high wind warning. But, to tell you the truth , I probably would have done the same.LOL! Good thing your parents are okay. To bad for the car, it can be replaced, your parents cannot. I am trying to picture my parents as two pillars of sand.LOL! Well good thing everything is Okay. Take care, and have a nice day. Tell your parents to take care too. Groetjes Margajoe.

• United States
24 Oct 07
Yes, well, you know how parents can get? lol. Besides the red-flag warning I told them, actually I begged them to stay with their friends for the night. But they are safe now and they're already talking about buying a hummer. Heh! No way. Too much car for any of us. Thanks MargaJ, we'll talk soon. Dag.

• United States
23 Oct 07
Oh my what a derrible thing to happen to your mom and dad and I bet they were scareder than you was when ya saw them all covered with sand. I have drove through samd storms snowsorms Tornados ice storms. Think the worst one was wehn we were moving from Wis . to Utah in Dec of all months . Well we hit black ice and took us 2 hours to go 5 miles to get to and exit to a motel. and even the motel parking lot was a solid sheet of ice. another one was when IWas a kid we were driving in a snow storm had to guess where the road was and ended up in a ditch for hours till my dad walked to a farm and got some one with a tractor to pull us out. Nothing hurt us or our cars but it was awfull any way

• United States
23 Oct 07
Woa, I would say you've driven some harrowing road conditions. Scary!! Take care, Lakota.

• Australia
25 Oct 07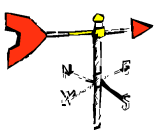 I have heard of these Santa Anna Winds, but they must be worse than I realised. To blow out your parents car windows must be caused by very powerful winds. It must have been very scary for them. Where I come from up North, we get what we call "northerlies". In reality, they are worse than the name implies. Northerlies can be very strong, & very hot. If we get a northerly on a hot summers day, they can be very dangerous, & can cause fires, or at least inflame a fire to a wildfire level. Northerlies also cause a lot of allergy problems.

• United States
24 Oct 07
We are nowhere near the fires, but when we lived in Florida had to deal with hurricanes. I was always a nervous wreck when it came to driving in bad conditions. I am glad your parents made it safely to your house. DO you think you will need to evacuate or are you a pretty safe distance away?

• United States
23 Oct 07
ohh im glad they made it. The worst driving conditions i have been in would have to be when i was in labor with my last child Hubby didnt have a lisense at that time so i had to drive he was with me just incase i couldnt drive any more.. well it was november and the roads were slippery and it was snowing hard. I managed to get to the dr only to be told there were no beds available at the hospital and that i should go back home 30 minutes away. made it back home to although im not to sure how lol

• United States
24 Oct 07
After all that they could not find one lousy bed for you. That ought to be against the law. And you were in labor? How and why did he send you home. Did you have the baby at home or was it false labor. Oy! The things mothers go through. Yikes! Thanks, prettygirl for hanging with us here. Have a most awesome evening.

•
23 Oct 07
Jeez I'm glad to hear they are ok, even though they should perhaps have taken heed of the red flag warning. A couple of years back I was driving in the North of England across an area of Saddleworth Moor which is notorious for bad weather. The weather turned bad almost within moments of my starting up the long climb up to the Moor and by the time I got to the top of the hill it was a raging blizzard. Visibility was zero, the winds driving the snow virtually horizontal and the only way I could continue was to try and drive with main beams and hazard lights and fog lights and crawling along as best I could until I reached the other side of the Moor. As I inched my way carefully down the hill the snow stopped, the wind eased off and by the time I got to the bottom it was raining and you would never have known the awful driving conditions higher up.

• United States
24 Oct 07
Uuuw, you're so good Ms. Goth! That sounds like you were part of a really good movie. Foggy and misty and dangerous. Glad you found your way out.

• United States
26 Oct 07
Well being from the "Great White North" (Canada) driving conditions can be absolutely brutal in the winter thanks to blizzard conditions, heavy snow, white outs, black ice, strong winds etc..I dont live in Canada anymore but Western New York is just as bad and being out in the country the driving conditions can get brutal