Dog in Coma After Saving Owner from Snake Bite!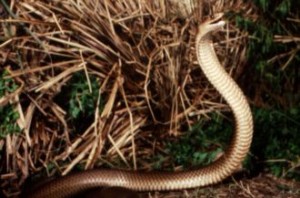 Australia
October 30, 2007 11:11pm CST
This is one of those "feel good" stories that I hope has a happy ending. In Queensland, a 68 year old women was chased by a huge Eastern Brown Snake. It was over 2 metres long & is one of the deadliest breeds in the World. Unlike other snakes, which hide, this snake literally chased the woman. The woman screamed &, at her age was unable to outran the snake. Her three dogs came running. One of the dogs intervened, despite the woman shouting at them "leave, leave". The snake struck at the woman three times. One dog, Tessa, a kelpie caught the snake & & was bitten. Sadly, snakes are even more venomous to dogs than humans, & they usually die. The owner, raced her dog off to the vet & she has a 50/50 chance of survival. The vet said that had the women been bitten, she would not have even made it to her back steps. I am going to see if I can contact this woman to see how her poor dog is. Eastern Brown Snakes are common in my State & live very near my home, although thankfully I have never seen one in my yard. We call them common brown snakes.
6 responses

• Australia
31 Oct 07
What a great story of protection of the dog to its owner...I really hope this dog is fine...I hate snakes and dogs, just know when they are around..I found a red belly black snake in my backyard yesterday that the dogs had killed..It was horrible..

• Australia
1 Nov 07
It was luckt that your dogs were not bitten by this red bellied black snake, as I believe they are very dangerous.

• Australia
2 Nov 07
I didn't know red bellied snakrs kept the browns away. Apparently the presence of goannas keeps snakes away too.


• United States
31 Oct 07
That is an amazing story. I don't know if you know about this, but Ellen DeGeneres loves this kinds of stories, she tells them on her show all the time. Maybe it would be a good idea to send her the idea with the proper information, like the woman's name and such. I'm sure she would have the woman on the show or at least mention it. It's the kind of story that everyone wants to know about for some reason or the other. I think it is amazing what those dogs did, specially Tessa. I'm a big fan of Ellen and I thought it would be a good idea. :) Do you know of a good place to find stories like this one?

• Australia
1 Nov 07
Is this Ellen DeGeners show a US one? As I am in Australia. There was another hero dog story the following day, where a toddler was sacved by a dog from a snake bite. Maybe I should start a discussion on thios one too. Here is one site where I think you can find good dog stories. http://www.things4yourdog.com/page/912651

• Philippines
1 Nov 07
Hi jennybianca! That is amazing at the same time sad! It is amazing how a dog can give up his own safety or life for his master and so sad because the dog is in a coma. I just hope he will be alright. You are right, this is a "feel good" story somehow and it is all about friendship and love and I hope it will have a beautiful ending. Take care and have a nice day.

• Australia
2 Nov 07
Another dog hero was on the morning news the day after, with an even more amazing story. See one or more of my other replies.

• United States
31 Oct 07
She is one lucky lady that her dogs protected her like that. I'm not usually that afraid of snakes, but that one was aggressive chasing her like that, and I would be really scared if that happened to me. I hope her dog recovers, he sounds like a true hero. If you find out, please let us know.

• Australia
31 Oct 07
I saw it on TV tonight. The dog is very sick. I hope to find out what happens. There was another similar hero dog who saved a toddler that I'm going to discuss shortly.

• United States
15 Nov 07
It's cool that the doggie saved her, but I sure hope she makes it ok. Has there been another story updating on her condition??

• Australia
17 Nov 07
There hasn't been an update on her condition & I would really like to know.

• United States
1 Nov 07
Dogs are amazing. I think they are more loyal than people in most cases. I know that if I saw my mom getting chased by a snake I wouldn't hop in there to save her. I would call someone, but I would be too terrified to know what else to do. Dogs just don't think like that, they react.

• Australia
2 Nov 07
They asre incredibly loyal. The day after the event I related, a toddler was saved from a snake by her dog, who picked her up & threw her over his shoulder, away from the snake.