Amy Winehouse.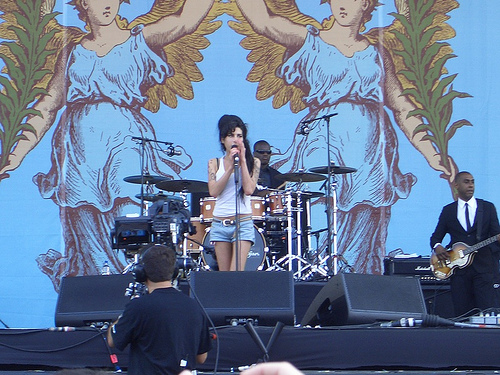 November 17, 2007 12:17pm CST
http://tinyurl.com/342o9f I've just been reading another article about Amy Winehouse (link above), she's apparently staggered round the stage slurring her speech and calling the audience mugs for buying tickets on the first night of her new big tour. It's sad she's obviously got serious drug and alcohol problems so quickly, and it's getting worse now her husband is in prison. She is a talented singer and is so different to everything else in the charts it would be so sad to see her stop performing for good, or worse die of an overdose. Is anyone else a fan of Amy Winehouse?
5 responses


•
18 Nov 07
Hopefully things will be done for her and the same mistakes won't be made that were made with people like Janis Joplin.

• Philippines
19 Dec 07
i'm not really a fan of her but i am pretty much concerned with her condition right now since i enjoy listening to her music. i really hope that she would do something about her current condition now. it will be sad for me to know if her life goes down to waste if ever the worst thing comes... some people even bet on when she'll die and that's sad to know.

•
19 Dec 07
I saw on the news yesterday she's been arrested for the same offence as her husband who is in jail "perverting the course of justice" though he is also in there for GBH apparently. I haven't watched the new today so i don't know if she was released apparently she went to the police station voluntarily and it was prearranged so I assume she was released.

•
16 Dec 07
I love her music, her voice is just fabulous. There are very few artists that you can say will definitely still be listened to in 20 or 30 years time but she is one of them. I'm listening to "Love is a Losing Game" as I'm typing this and it already sounds like a classic. It's just perfect. I hate to see someone with so much talent throwing it all away so I really do hope she sorts herself out. Unfortunately I just have a feeling that it will all end badly for her. I feel the same way about Pete Doherty too, who is also very talented although not on the same level as Amy Winehouse. There are some people that you just sense there isn't going to be a happy ending to their story and I hate to say it but I think they both come into that category. There's a terrible inevitability about it all.

•
18 Dec 07
I hope she will be the one to survive and still be here in 20 years and not go the same way as Janis Joplin and Sandy Denny, but as you say it seems inevitable she's the only one who can change herself it's up to her.

• Saudi Arabia
26 Nov 07
Hello there, nice topic.. Although I am not a big fan of Amy Winehouse, but I have to admit I like some of her works like 'Back to Black' and 'Tears Dry On Their Own' I just love these two songs despite i am not much into her music Genre which is kinda soul n' Jazz. I believe Amy has got a very charming and distiguishable voice, damn i just love it. She may have to do some little homework like she can't be with the same eye liner style and same haircut in each and every video but all in all, the woman is talented no doubt. Wish her a soon and big comeback. Thanx Nancy for such a lovely discussion.

•
26 Nov 07
I hope she sorts herself out I like the re-hab song too it was quite a daring song to make at the time but has become ironic now too, what with all her falling over drunk on stage and asking for drinks while performing etc.

• United States
17 Nov 07
Amy so so refreshing when she first started, lovely voice and sweet personality and surely on the fast track to fame. Unfortunately she tracked herself elsewhere and is not making a strong commitment to cleaning her act up. One thing I know for sure is no one can help her unless she decides to help herself.