Woman stabs husband over Christmas present

Indonesia
December 24, 2007 11:45pm CST
An American woman has stabbed her husband with a kitchen knife in an argument that started when she accused him of opening a Christmas present early Misty Johnson, 34, of Rock Springs, Wyoming was arrested and charged with aggravated assault and battery, a felony, and misdemeanour domestic battery Her husband, Shawn Fay Johnson, 34, was treated at a hospital for a wound to the chest, police said Misty Johnson made an initial court appearance in which she requested a court-appointed lawyer, authorities said. She was released after posting bail, which was set at $US 7,500 Authorities said Shawn Johnson called police to report that his wife had stabbed him. He told police that his wife started arguing with him over his opening a Christmas present, according to court records As the argument escalated, Misty Johnson accused her husband of having an affair, authorities said. Police found a marriage licence in the couple's apartment stating they were married in late September Police Detective David Thompson said he did not know what the present was, or if it was intended for the husband What an ironic story for Christmas right ??
7 responses


• Philippines
26 Dec 07
The gift opening could just be the tip of an iceberg...I suspect there is really a predisposing factor, and the opening of the gift could just be the precipitating factor...evidently, the couple's marriage is on the rocks, there is more to it than the surface argument. Imagine having to pay a huge bail after the incident...for me it was totally unnecessary. If my husband fools around, I'd not even lift a finger to hurt him...I'll just leave him and fast....of course, that is after a due process. In other words, no baseless or unfounded accusations. There should be proofs to make it substantive...That piece of news indeed is ironic considering that it's the season of joy....


• Davao, Philippines
26 Dec 07
yeah it very ironic!! and maybe we cant blame the wife for stabbing lol joke ok..what i mean is that whatever causes the argument we should not be so drastic in our action that in return it may causes harm to our spouses and will lead to separation if ever it cant be patched up..


• United States
25 Dec 07
Wow, what a nightmare. I couldn't even imagine what it must have been like for him to go through this especially over something so stupid.

• United States
25 Dec 07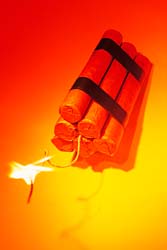 Something tells me there is much more wrong in this marriage than a simple Christmas gift gaff. That gift probably had little to do with this situation, just was fuse to this fire. * Nonetheless, the Christmas gift gaff adds interest to an otherwise merely tragic domestic dispute.