Do you prefer a digital camera to a 35 mm

Canada
January 6, 2008 12:48pm CST
I have recently upgraded to a digital camera. A full zoom lens and a very nice camera, But i miss my 35 mm camera. I needed a new lens for it and i still have not found one. I love the suspense of not know what is on the film, and seeing if my pics have turned out. As well there is a delay on my digital that i still can't get use to, drives me nuts. Whats everyone else think?
2 responses

• Canada
6 Jan 08
I love my digital cam. It is well worth the money as i have taken thousands and thousands of pictures. Once you really think about you do and will save money in the long run as you can take unlimited photos for as long as the camera lasts (sometimes they do break. I don't miss the pop in films at all. You can only take so many photos and then you have to change the film again. Too much of a hassle for me. I think that they will be going out of style just like the polaroids did and turn absolite. Not to sure with disposable cameras though as they still seem to be going pretty strong.

• United States
6 Jan 08

I REALLY like digital SLR cameras (which allow you to swap out lenses. Though they are expensive the good ones (I would recommend Canon & Nikon) are cameras that are going to actually give you better quality than a film camera. With that said and back to reality on price... the digital cameras I am using right now are the Canon Powershow SX1000 IS which has a GREAT 10X optical and 4X digital zoom (for 40x total). With the OPTICAL imagae stabilization I can take pictures at 40X and still have them come out crystal clear even without a tripod. The other cameras I use are the Canon Elph SD870 IS which has a 3X optical and 4X digital zoom. Though it has a few more features than the previous camera and is a lot smaller, the camera doesn't have near the capacity for zooming as the SX1000 but shoots at a true 35MM (wider shot) than does the SX1000... So SD870 for wide shots (has image stablization as well) and the SX1000 for long away zoom shots. Neither of these cameras need cradles (as Kodak cameras are famous for) and the last camera I own which is the... Casio EXILIM. I got this camera when it first came out... before image stablization and that is the reason I rarely use it anymore. It uses a cradle which means even though it is the slimmest of all the cameras I carry, I also have to carry the cradle, wires, etc... that I don't with the others. The 870 has a compact charger with the plug integrated into the charger which ends up being smaller than the camera itself and the SX1000 uses AA batteries for which I use rechargables... the best way to go in my opinion. There are some really inexpensive cameras out there (and some really small ones). There are a couple things I would look for. 1. a good glass lens at an affordable price. There is no need for Pentax leneses (which the Casio does have) or Carl Zeis lenses (which the Sonys have) but a good glass lense that does not distort is the key. 2. a camera that fits your needs before it fits your price. If you are not going to use it, there is no reason buying it. 3. a camera that has OPTICAL image stablization. It makes all the difference in the world. The switch to OIS has had me go from throwing away about 50% of my shots to less than 10% because of blurryness. 4. weight and size. My SX1000 is a larger camera (because of the big optical zoom but is NOT that much heavier and I bought a belt case (and carries extra batteries to boot) so I don't even feel it. Digital SLR cameras are about as heavy and bulky as a traditional SLR and need a shoulder bag... cameras like the SD870 and EXILIM cameras can literally fit in a shirt pocket and both have batteries that will last for hours. After the batteries die, you either need to charge the camera (EXILIM) on a cradle or the battery (SD870). Nothing worse than being half way through your trip at Disney World and running out of battery power!Hope this helps you out and answered all your questions.

• United States
8 Jan 08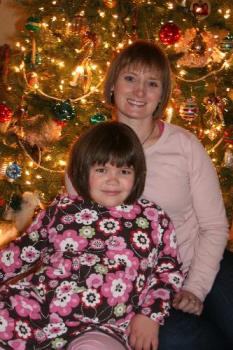 I switched from film to digital orginally to save money on film and processing. I used to take about 30 to 40 s a game, but with digital I am no longer concerned with the number of photos I take and now take about 120 to 150 photos per game. I find myself doing more expermenting with shots and trying shots that I would not have done with film because of the ajustments that needed to be made after each shot. This is one shot that I took at Christmas. I tried something different because my daughter and granddaughter were willing to have more shots taken. For years I have taken indoor photos using a flashor natural light and got OK photos. While shooting this year I had used the night flash setting to take some photos outdoors and decided to experment as I was not getting the shot I wanted. See my positng "Christmas Photo Tips". I could not have done this with a film camera becausse I would not have known that it worked until I got my photos developed.