Breaking the unspoken rule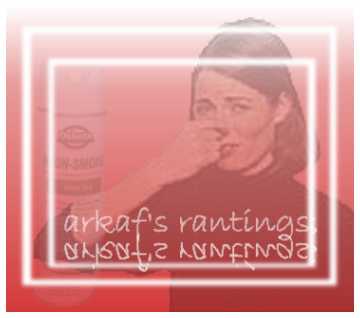 Canada
January 8, 2008 5:37pm CST
I just came from picking up a friend. This is a very special friend, in need of much TLC. A fragile self esteem, self conscious about her weight and with a soon to be ex-husband that left her with 4 small kids for her best friend just before Christmas. She smokes. Quite a lot, specially since Christmas.I think she is allowed the slip. Plus it's none of my business, really. But this discussion is not really about her, although there would be a lot to say, except indirectly. It's also not about smoking or not smoking. I hate that kind of discussion. People have their own ideas and I see no point in asking if it should or not be done, or if one should start or stop smoking, still I will be touching that subject as well. What is this discussion about? Well.. it did start when I picked up my friend at work. She had just put on her coat and was getting her purse while I waited just outside the room. As she turned to say good bye to her coworkers one of them commented loud about some sort of smell "OH of course - she almost yelled - it's your jacket and the smell of cigarettes!Oh Good, woman, it's awful!!!" Now, I don't know about you. I grew up with a set of unspoken rules that were actually loudly spoken to me: Don't tell your grandfather Alfredo that he looks like an elf, don't laugh at cousin Esmeralda's earings, and for Heaven's sake don't tell aunt Maria that her blouse smells like mothballs." "But ma... he does look like and elf, and cousin Esmeralda's earrings seem bigger than her. And I can't stand that smell from aunt Maria's clothes...""My dear, I guess we can all agree that uncle Alfredo looks a bit like an elf, but there is nothing he can do about it, and telling him so, will only hurt him. Do you want him to feel sad? True cousin Esmeralda doesn't have the best taste in the world, but she is a wonderful person and surely that's what counts. Aunt Esmeralda is old, hon. She is worried about her clothing getting holes from moths, so she uses mothballs on her drawers, that's how she learned how to deal with it. Telling those things to any of them would hurt their feelings, and they don't really deserve that."" So it's ok to lie, them? " " No, but sometimes when you don't have anything nice to say, maybe you should say nothing... And if the smell from the clothes bothers you, maybe you can stay just a bit behind, so it won't be so strong. But they are very happy for being here in your birthday, and there is no reason to make them feel sad."I remember this conversations often.That unspoken rule, that prevents us to ruin someone's day by telling the lady in the next house that she has bad teeth, the man that brought up our new sofa, that he smells, that your coworker put way too much perfume, or even that you know that that gas was passed by the only other person in the room - your boss:) People don't go around telling those things. But somehow when it comes to cigarettes there's no need to be tactful anymore. We're all so righteous that we can hurt their feelings because instead of bad breath or gas, it's the smell of cigarettes in someone's clothes. I"m not talking here about someone smoking in your face - that second hand smoke. I"m merely talking about the - in her case - faint smell of cigarette smoke on a coat. My friend said nothing, she just backed away and when we got home she put her coat on a basket for dry cleaning. But I saw she felt bad with that comment. She could, of course, have commented that maybe it wasn't her jacket but the armpits of the person that talked - I have been close to her enough times to have seconded the opinion - or maybe the perfume of the receptionist - something called " get your man... from 100 miles away" . But she said nothing, and just lowered her eyes as if she had been caught doing something wrong. She kept smelling her jacket as we were on the way to her home and was silent like no other day. She's my little chatterbox and she does not deserve to be hurt that way. She never smokes inside her home, she comes outside. She never smokes during her breaks at work. She's extremely respectful of others and either will move away or put out her cigarette if she's outside smoking and someone stops to talk to her or his close enough to be affected by the smoke. Why is it that the unspoken rule can be broken because we're dealing with smoking? Or obesity? WHo gives anyone else the right to be rude just because it's those two subjects we're talking about. I don't see anyone turning around and telling the lady at the bus stop that the colors she's wearing don't go well together, and that maybe she could use a bit less make up. I don't see anyone telling the girl with the greasy hair, that washing it every once in a while is beneficial. I don't hear anyone telling the teens with the bad language that washing their mouths with soap might cure the habit. But I hear the "YOu really shouldn't have that hamburger, lady" said to the slightly obese woman that is getting ready to bite into - what can be her first meal in the day. Or " with your weight, you shouldn't wear that skirt" to the coworker that they rarely see. And I see the woman fanning her hand in front of her nose to the men, that was actually nice enough to throw out his almost whole cigarette because he reached the bus stop and there are other people in the line. What gives people the right to be rude when it comes to these two things? Tact and politeness don't need to be observed because it's a cigarette, or a fat person?I know, I know, I"m ranting. But I"m sure I"m not the only person that observed this, or am I?
9 responses

• United States
9 Jan 08
This is an eloquent and well written rant. I do not smoke, and I do not like smoking, and I am somewhat sensitive to smoke. There are places that I do not go because of the lingering smoke, BUT I DO NOT verbally beat up smokers. I have too many family members who do smoke, did smoke, or have been smokers. Don't people know that you do not have to smoke, to smell like smoke? I used to haul a support person on the bus with special needs kids. I was certain she smoked like a chimney, but I held my tongue. Until she broached the subject, which really was that her husband smoked way too much, in the house and she hated the way her clothes smelled. I learned not to talk about my own weight when my skinny eight year old daughter started talking about needing to lose weight AACK! We are not all twiggy. It is more important to eat healthfully than it is to be a skinny minny.I was speaking with one of my adult clients, who needs to exercise for her blood sugar issues. I talk with her about good food choices, but I asked her, one evening, Are you heavy, or kind of skinny? (She is rather large.) She told me she was skinny. This person is delighted with who she is, she feels beautiful, and acts beautiful and is in love with life. I want to have the same attitude about me, because others can not break my heart then.


• United States
9 Jan 08
Does your friend have internet, maybe she would like to join us here. She could be appreciated for who she is.

• Canada
11 Jan 08
SHe does have internet and I have told her about myLot, but so far she didn't really seem interested. I don't want to push her but I think it would be a nice idea as well so she wouldn't stay inside her little shell. We'll see. SHe will be spending the weekend with us. I think that will be good for her.

• United States
8 Jan 08
I think it's pathetic how some people don't have any tact and just feel they're all high and mighty about how they approach people. Everyone has something that bothers them like a smell or behavior or just another person in general. I think if the person is not directly affecting the other person they need to have a little civility instead of being an obnoxious loud mouth. It's sad and disgusting that some people are so rude and have no manners.

• Canada
9 Jan 08
My feelings exactly. We're not talking here about someone that was smoking on their faces. We're talking about a person that is sensitive enough to not even smoke on her breaks because she - like me - works in a school and doesn't want the kids to smell the smoke on her breath. I think that when it comes to those two things: weight and smoke- a lot of people are in their high horses and feel that they can act rude just because they are right and smoking or being fat is wrong. It makes me so mad. The hours I spent with my friend since Christmas trying to get her to see things a bit more positive and to regain some self esteem.. and these people ... I don't even have any more words grrrrrrrrrrrr

•
8 Jan 08
You know what arkaf? I really hate how those strong smokers think they're cool and tell people who wouldn't wish to die from smoking "how do you if you haven't tried them, you're not living"


•
9 Jan 08
yeah i saw your point. I hate my father smoking and then going near jake, on new years eve he sneaked some smoking time at house even though it could of gone against us. Anywho... kudos! ~Joey

• United States
23 Apr 08
No, your not the only one and I'm not sure why ppl have come to the point where it's ok to be rude to others. Surely they can see the hurt and pain on their face when they say their rude remark. It's like it's ok to be hateful and spiteful to certain ppl. I hope your friend has gotten past it by now. The best I can say is some ppl have no manners or compassion. **AT PEACE WITHIN** ~~STAND STRONG IN YOUR BELIEFS~~

• Canada
23 Apr 08
Thanks for responding. I too feel this was quite rude and I feel that people seem to think it's ok to be rude when the person they talk to is a smoker. It's like it gives them the right. Someone in here mentioned a pack mentality and I completely agree with that comment. There is always safety in numbers. And they feel that the numbers behind them entitle them. ALso they have this idea that because they feel that they are right and the smokers are wrong it's ok to harass them. My friend is doing quite well, thankfully and her life seems to be turning for the better finally. I don't think that she would even feel that hurt by that comment now, she would probably have a perfect answer due to her new self confidence.

• United States
23 Apr 08
It's great that she's getting her self-confidence back. Ppl seem to be getting more rude and outspoken though I'm not sure why. Perhaps they see others doing it and think it's allright. Or like you say Mob Mentality. **AT PEACE WITHIN** ~~STAND STRONG IN YOUR BELIEFS~~

• United States
11 Jan 08
I don't think anyone has a right to be rude although on a few occassions in my life I have been rude - to rude people. If they don't get the 'hint' that they were being rude I would just be rude back. That said I do believe there are people who believe they are above all rules and if they want to be rude they will be no matter whether it hurts someone else or not. Such as the co-worker - I would have had to bit my tongue not to say "maybe wouldn't smoke if she didn't work with rude people like you".

• United States
9 Jan 08
Hi my friend wow I just read you whole discussion. I started reading it and got so caught up in it. Very well spoken and I enjoyed reading this discussion. Your a good friend to this person and Im definetly with you. People can be so cruel and hurtful sometimes. I hope your friend is doing okay. Keep us informed on her progress. I wish her alot of luck in moving on. Great discussion.

• Canada
9 Jan 08
I've been with her today. I'm trying to convince her to let me babysit her kids while she goes to the hairdresser and buys some nice new clothes. She needs to feel good about herself and the way she looks. She is not the kind of person to hold grudges so things at work were not as awkward as they could have been. But I am certain that the world would be a much nicer place if people were a bit more thoughtful.

• Canada
9 Jan 08
My mom used to say Misery loves company, and I took this to mean Miserable people like to make people around miserable as well so they can feel good about themselve. My mom also used to say "If you have nothing nice to say about someone keep your mouth shut". These miserble blobs that go around wreaking havoc on everyone around them should learn this.

• United States
9 Jan 08
I don't think they have the right..I think they have no manners! You might have been ranting here..but you said it very well! I am not overweight too much...a little middle aged spread and I recently sat down on break and another worker asked me if I was going to eat all of that...I had oatmeal and a muffin! I know where you are coming from. I also smoke...like your friend, not alot and I am very considerate. I live alone and don't even smoke in my house! But I have had comments too like that from people who are having a bad hair day and I didn't mention that to them.....or also wearing the dime store perfume by the gallon so I sneeze when I am in close range! But I don't mention that either! Good for you for ranting and venting what we should call to those people's attention. But in reality they for the most part think they are on the verge of being perfect so how could they do anything wrong, right?

• Canada
9 Jan 08
What puzzles me, is that the same people would be more tactful if it was something else. If she had body odor for example. But not when it comes to those two things. It sounds so wrong to me. DO they think they're so much better than her? I doubt they are. I"ve know her for many years, she's a wonderful thoughtful person. SHe's brave and hard working and so loving. SHe didn't deserve that. I worked at that school before, and I remember those that commented. I wouldn't say much if I was them.

• United States
25 Apr 08
I think everyone should have respect and manners and be polite. If someone is smoking around a non-smoker, they ought to not blow the smoke in their face... If someone's coat smells like smoke, why bother commenting on it? Is there much of a point in doing that? Can't they just keep their comment to themself? I definitely think people are too rude. I worked in a bar (before the smoking ban) and smelled like smoke all the time, although I don't smoke myself, but that was my job. When customers had too much too drink and accidentally breathed smoke in my face, I thought it was a bit rude of them, but I simply backed away, not so much for them to notice (unless they were intentionally being rude to me or obnoxious) and kept on talking to them as before. What is the point in being rude? I guess some people like hurting others. Maybe they havetheir own issues, but people ought to be respectful and have manners and think, "What if this was said to me? What if the shoe was on the other foot?"