Have you had bad experience with Myspace?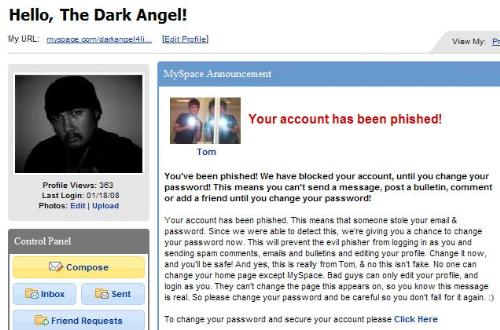 United States
January 20, 2008 5:14am CST
I first started using Myspace in 2005. That time I thought it to be the popular site - to make friends, invite friends, blog, start groups, putting layouts, html coding - but then things just started going wrong. Obviously then came in spammers and those with fake sites - this happened around 2006. 2007 was those coming across issues with getting their profiles hacked, phished because someone stole their password. Happened to me 3 times already - so frustrating I tell you. And another big problem was the "unexpected error has occurred" that popped up all the time. To the point I could not log into my site, check my profile and other things. Just yesterday it happened again, I log into my site and then it says "Your mypsace account has been phished" again! So then it said my account was blocked and I can't send any comments, messages until I change my password - for the 4th time? Forget it! So I switched over to Yuwie! Much much better than Myspace - don't even care if the site don't pay much, but I feel much more comfortable there, blogging, having friends invited and to view my page to pay me such - and bigger chance to promote Mylot there as well. Because unlike Myspace if you tried to promote Mylot, Yuwie or other sites as a link they will disable it. Same thing for those that use friendster. Even friends of mine from Myspace are getting tired of it. They too have bad experience using it due to viruses, popups, phishing attacks and such. Have you had the same thing to you? What are you using now to invite friends, blog or start groups?
10 responses

• United States
20 Jan 08
I have to agree that myspace has gone way down. Especially with all the spam mail. I didn't get spam for like over a year and than one day it started. I have learned that if you change you relationship status to : in a relationship it cuts down on the spam alot. I have also changed my profile to private and only friends can look at my page. I only go on there once a week now just to check my messages from friends. Where as before I use to be on there everyday. I do really like the myyearbook site. Its really kinda fun. you earn whats call lunch money from everything you do on there which you than in turn can use to make your profile better.

• United States
20 Jan 08
I've done all the private settings previous - the problem is when you don't know that one of your friends on your list got their site hacked and then all of a sudden thinking you got a comment from your friend actually turned out to be a malicious code - even when opening a bulletin - but sometimes we are not aware of why it happened. Before I seldom checked myspace and then boom couple of days ago it said I got phished - and my passwords are symbols, letters and numbers so those programmers find ways to execute codes - especially when putting new layouts or other designs for editing profile.

• United States
20 Jan 08
It seems that everyones my space gets hacked into at least once, just change your password and hope that it wont happen again. So far I have had more good experiences than bad experiences with my space.

• United States
20 Jan 08
After 4 times to change my password? I don't think so! I've given up myspace for good! I check it once in a blue moon now - and I'm letting my friends know to move over to Mylot - way much better - less hassles and less errors.

• Denmark
2 Feb 08
i haven't been hacked not even once :D


• United States
20 Jan 08
Thanks for the info! Either way I'm not going to use Myspace much anymore. I'm tired of logging in dealing with the "unexpected error has occurred"

• United States
20 Jan 08
I have never been hacked on MySpace, not once. And all of my friends who have been hacked never got a message like yours. Sorry you had a rough time with MySpace. I tried Yuwie and I just don't like it.

• United States
21 Jan 08
I got hacked/phised on MySpace once. Since I started using FireFox as my browser, it hasn't happened again. If I get spam mail, I flag it was spam. I set my profile to private and I screen my comments. No major issues now.


• India
21 Jan 08
nope, No problem with that, i use my blog to invite, Works best for me..

• United States
20 Jan 08
I've had my Myspace page for well over a year now and so far (knock on wood) I haven't been hacked. My sister on the other hand just recently joined Myspace and within 3 days she was hacked. I haven't had any kind of problems, no spammers or anything like that.

• Canada
20 Jan 08
I was on myspace for awhile. It got hacked by a crazy guy that I knew in real life. I created a new profile and moved on lol... But what finally made me just STOP that site was that I would get all of these people adding me as a friend and I didn't know them. They would be bands in the music genres that I don't like or these people trying to sell me something. Or guys that wanted to have a whole list of friends that were women. I wouldn't add any of these people but it just made me angry. I mean why would they bother me and want to be my friend and not ever message me or if they did it was just spam. I facebook now. And I love facebook. I find there are more Canadians on Facebook too which of course is where I am from so I am coming across more old friends etc.. on facebook.

• United States
6 Feb 08
i use to get phished ALL THE TIME, but it never happens anymore, myspace upgraded : ]]