If you found a hundred dollar bill on the floor what would you do?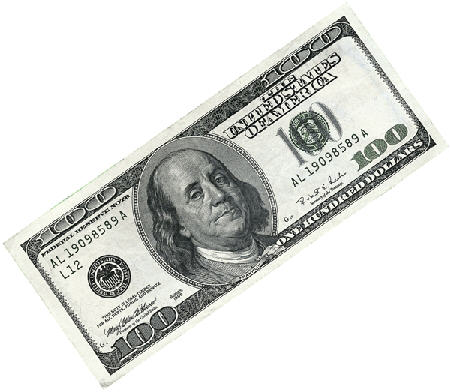 United States
January 27, 2008 6:44pm CST
Say you're just minding your own business walking and then you just found a $100 bill on the floor? What would you do? For me I would have saved it and add it in my prepaid credit card - save an extra $20 for gas haha! The most I have ever found on the ground was a $20 bill I think remembering I bought carne asada fries and other things. How about you?
7 responses


• United States
28 Jan 08
I found $10 at a doorway of WalMart and tried to return it at the sevice desk. They asked if I knew who lost it. Of course I had no idea. They refused to take it but never told me it was mine. So I left with it. HAPPY POSTINGS FROM GRANDPA BOB !!~

• United States
28 Jan 08
This happened to be last year. I went to a local casino. I used Valet parking. As I walked in the front door I found a $100 bill on the floor. I stopped the valet asking for my car back. They said, You just got here. I looked at a security gaurd whom said, It's not mine. So the valet gave me the car back and I left $100 richer. Granted I used a few dollars in gas but I was ahead. HAPPY POSTINGS FROM GRANDPA BOB !!~

• United States
28 Jan 08
LOL the most I found was a $5 and I bought me carne asada fries haha you copy cat! But yeah if I found a hundred bucks on the floor I'd be tripping and wouldn't know what to do with it. I would buy a better guitar or clothes or xbox games or a new skateboard.

• United States
28 Jan 08
If I found a $100.00 bill on the ground and no one was around to claim it, I would take it and put it in my savings account. I would leave it there and use it for ena emergency or to help pay off a bill or something like that. I think the most I ever found was a $1.00 bill though and some change.

• United States
28 Jan 08
well, iv never found a $100 bill on the floor. but i have found $300 in the mall bathroom one time. that was a couple years ago, so i spent it on clothes and such. but now if i found that much money, i would save it.

• Cebu City, Philippines
28 Jan 08
Wow I would be the luckiest person alive. Its an impossible situation here in the Philippines since we dont use dollar, but if ever I would see that 100 dollar bill, then , I would save it and keep it keepsake and only spend it when the need arises.

• Canada
22 Feb 08
My husband and I would do the same with a twenty dollar bill, as we would with a $100 bill. We would take it to the nearest Lost And Found. We found a twenty dollar bill at the groccery store the other day, and we turned it in to Customer service. It was lying right there in the middle of the floor, and we picked it up and took it to customer service.