What is the highest game you ever bowled?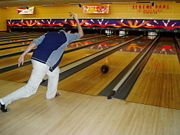 United States
5 responses

• United States
31 Jan 08
Oh goodness, it has been more years than I can think that my husband and I bowled on leagues. I had at one time an average of 249 but can't think of what my highest score was. I feel I would be lucky to bowl a 49 now. hahaha I will just stick to the Wii bowling.

• United States
31 Jan 08
I just kept calling stores that carried them and found out the days they get deliveries in. One day I called Wal Mart and the lady said they just got some in so I called my husband and he and the guy working with him went right over there and got one each. The store just got about 5 or 6 in so we got lucky. Good luck getting one and have fun with it when you do get it.

• United States
1 Feb 08
I have been calling... there is a web site... let me find it here... http://www.wiihunter.com/ They have an RSS feed so I have that on my home page... as of yet, nada. This is really crazy. My brother was able to snag one (how I don't know) right before Christmas. I told him he should have Ebay'd it and doubled his money.



• United States
31 Jan 08
279 is a really good game. I am a terrible bowler. I think my highest game was in the 180's. Usually it hovers somewhere around 100. I am even worse when the bumper are up when I am bowling with my son for some reason. You would think that I would score better not worse.

• United States
1 Feb 08
180 is not a bad score. And I completely understand about the bumpers. But they are cool so that little kids can play along with the adults. Some houses actually have electronic programs to say to raise and lower the bumpers depending on who is bowling which is nice.

• United States
31 Jan 08