What Speed are You Connected?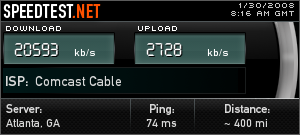 United States
February 5, 2008 12:45am CST
I sent my parents off on a cruise to the Bahamas and am watching my 93 year old grandfather for them while they are away. No problem love to help out. Problem -- they have dial up! and they live out in the middle of nowhere so cable and DSL aren't even available yet. I checked my speed on my home computer at www.speedtest.net (very nice site) and these are the results I got (see picture below). 20593 kb/s DOWN (2574.125 KB/s) 2728 kb/s UP (2728 (kb/s)= 341KB/s) What are you connected at: http://www.speedtest.net
9 responses



• United States
10 Feb 08
I know nothing about computers other than to turn them on and play games or search stuff. I did this test and I got download 1074 kb/s Upload108 kb/s ping 80 ms distance 100 miles. I know that Bruce has got Roadrunner with me hooked up with a NetGear box. Is this pretty good, normal, or bad?Sometimes my computer runs really slow, but I figured out it it me clogging it up. lol

• United States
10 Feb 08
For Roadrunner that sounds about 10X slower than what it should be. Although in their defense they were never known for the fastest internet but when I had them they were very reliable. The download speed is not TOO bad but upload speed is too slow. You might want to have that checked out (try a couple other speed test sites first) because if you are doing videoconferencing or something where you are uploading (video to YouTube or even Pictures to Wal-Mart to have them developed), you are going to have slow-going of it.

• Guangzhou, China
10 Feb 08
I am using ADSL at home to connect internet. The speed is 1MB to download and 512KB to upload. Of course I hope to have a faster connection, but it will be much more expensive.

• United States
8 Feb 08
I have dial up, need I say more? LOL Like your parents, I am in the middle of nowhere (but only ten miles to somewhere LOL) so have neither cable nor DSL is available in my area. It sucks, but that's part of living in the country, I guess. :P I did the test anyway, just because I wanted to see if it would work on such a slow connection. LOL To my amazement, it did. My results are: download 17 kb/s upload 199 kb/s. Sad, isn't it? LOL


• United States
8 Feb 08
Wow, I wish my connection speed was that fast! :P Just look at my response below...UGH! LOL

• United Kingdom
7 Feb 08
Mine is 17060kb/s down and 362kb/s up. What does this mean? Is this slow or fast? I have had broadband since 2006 because where I lived before 2005 only had dial up. I hope that your parents are having a fantastic time in the Bahamas on their cruise.

• India
5 Feb 08
Hey thanks for sharing this site...Indeed!interesting site..never knew about it...Well my speed is 222kbps download and 201kbps upload...definitely miles away from your net speed....Well thanks for the site..

• United States
6 Feb 08
Haven't found anyone that is close to those numbers and now I am stuck on dial-up for four days... my cell phone is faster than this... oh well. I will make due. To all my friends out there you will notice that there will be less posts because of this... apology in advance. Zelo


• United States
5 Feb 08
Oh, I am on dial up and it is so frustrating most of the time. All the upgrades to Internet sites make them so that they run most efficiently on broadband. It is horrible. However, we did have broadband for a test period and there were so many problems with the connection that we ended up back at the dial up service. Yikes. Someday, I hope that all changes.

• United States
5 Feb 08
I am just now seeing how hard it is and how much time is wasted from dial-up service when I have service at my house that is so much faster. I hope that you are able to get broadband in the near future 'cause nobody should have to browse the internet w/dialup. Thanks for your response.