What do you think of Trick or Treating?

October 30, 2006 6:27am CST
I think it's a stupid thing to do, it scares people, so they won't answer the door on Halloween, it may have been a nice idea when children are younger and accompanied by adults, but now with older children it's not good. What are your views on Halloween?
6 responses

•
30 Oct 06
Well as a matter of fact, I recently found summat out about Halloween, apparantly it's from a very old ENGLISH tradition, the poor children in the community used to go door to door begging for food on Halloween night and if they didn't get anything, they'd do summat nasty to the occupier, such as put a hex on them or something like that. No, I don't like trick or treating, I mean, is it normal to say to kids, yes OK, go round knocking on strangers doors and asking them for treats, fair enough an adult taking the kids round the neighbours after they've agreed to it already, that's OK, if it MUST be done at all, but not the teenagers going trick or treating, but I have to say I was a bit mean last year, I stood right behind the door when I heard the gate open and I rattled the handle of the door or I threw the door open and stared at the kids, the looks on their faces was priceless, funnily enough, I didn't get too many more kids coming round that year. :)

• United States
30 Oct 06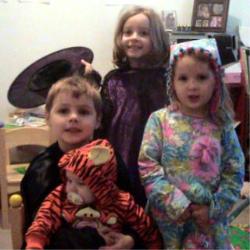 Why would people be scared? Unless of course it is a 6 foot tall teen boy dressed as a mass murderer and came to my door way past the normal trick or treating hours. Our town did trick or treating last Thursday and it was a lot of fun. There was no knocking on doors because anyone that was giving out candy was sitting on their steps or in their yard with a bowl. The whole town was out. When I was a kid I never really liked going trick or treating. It was a lot of walking and going up steps in the freezing cold (there were many times in Chicago when there was snow on the ground by then). And I never got candy I liked anyway so I gave most of mine to my mom and brother and rarely ate what I kept. We have a ton of candy now thanks to having 3 kids. They don't eat candy so it is just sitting there, lol. They have only had a few things each. Me and my husband will probably eat all the chocolate out of it and save the suckers for the kids but most of it will get thrown away. I think Halloween is a good holiday that unites generations. Parents that take their kids out remember doing the same when they were kids and our kids will pass it on to their children too. It is a tradition that I think is important to keep going, even if I personally don't like going trick or treating.

•
30 Oct 06
Perhaps it's only in England that people use trick or treating as a way to burgle/scare people. If you don't give them anything then the tricks can be very nasty and some people have had heart attacks from it. I notice my answers are all from Americans, who were the ones we English so stupidly copied.

• United States
31 Oct 06
That sucks that they do trick or treating like that in England. Why ruin such a fun holiday. It is only called trick or treaing. That doesn't mean tricks are mandatory. In the US the tricks are usually no worse then having your house egged or TPed (having toilet paper thrown in your trees). I mean some dumb kids take things too far but we have never really had a problem and we rarely gave out candy. I used to put a sign on our door saying we had no candy and then I turned our door bell off (we had an electronic one).

• United States
30 Oct 06
i think its fun for the kids. they enjoy it all the time,