Do you dislike any one of your close friend's avatar here?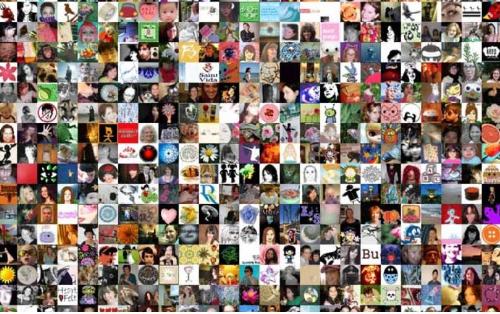 India
10 responses

• India
19 Feb 08
Bala, I can share the ones which I like since I cannot remember of the ones which I kind of dislike. (You have put me in trouble this time bala). I like all the floral icons and ofcourse baby faces and some intelligent ones like yours. I do not like much of felinity as avatar but that my personal choice, lol.. Thanks. PS: The new avatar with your photo superimposed is a nice one. A query hanging over Mr Balasri, perpetually consistent with good thoughts to intrigue the friends. lol..

• India
19 Feb 08
That is a smart response and very interesting as always. You have that knack of making yourself understood in a very gentle way Mimpi. No wonder I look for ward to your discussions and responses always. The new avatar with y photo is for my friend Debbie who needed to see my in the discussions. Well I don't fancy the idea very much. I always want to leave that man of quest alone.

• India
19 Feb 08
Thanks to Debbie. We will get to see you all the time, it feels good to look at the person you are talking to, isn't it?

• India
19 Feb 08
I think, that man of quest will be happy getting a company now.. hahahaha...


• Turkmenistan
19 Feb 08
Actually, I feel that the avatar says a lot about a person. If the avatar is offensive to me, then I will either not accept them as my friend or delete them off my list.

• India
19 Feb 08
Well I just pondered over your response and find out that you are correct to an extent.It sure reflects the a lot about the person.I can say this by going through the avatars of my friend. If I am right You must be a very affectionate person by your avatar.Right?


• Philippines
21 Feb 08
The friends I have on my list have different, cute and interesting avatars. They all look fine to me. But I did come across one member, who has been inactive for several months now. His avatar looked a little creepy. It was a small face, like something out of a horror movie. And they way those eyes look, it seemed as if it was looking straight at me.

• Philippines
22 Feb 08
well, from the looks of his avatar, it sure doesn't look like any Sylvester I've seen.. Better Sylvester than that one. And this little birdie is a toughie, bala.lol!

• Delhi, India
19 Feb 08
Bala! I believe selecting Avatar is one's personal choice. There is no question of me disliking any friend's avatar here. For me the important thing is -interaction with my dear friends. My dear friends are most important to me, irrespective of their avatar. I find some of them keep chaing it frequently, even then, it does not make much difference to me. I would continue to communicate with my dear friends ...even if they do not select any avtar.

• Delhi, India
19 Feb 08
Thanks soooooooooooooooo much Bala! You are the real perfect 'friend', who always makes me 'smile' and always encourages me in my responses. I am really indebted to you. Deepak Have a great day!

• India
19 Feb 08
Really i dont spend, more time on looking at the avatars. But i dont like those people who, have not uploaded any avatars,'coz, i dont like the GREEN MAN IN THE AVATAR. Good day to Bala.:)


• United States
19 Feb 08
LOL This is a rare question. I had got tired of seeing my avatar so I changed it. What I don't like are the green men avatars. I have found some really nice avatars on this site. I love balloons and animal cartoon characters.

• India
18 Feb 08
I don't really dislike anyone's avatars...each one chooses an avatar for a reason of their own. But I've seen an avatar which was similar to another one (not the previously banned one) and I was wondering what that was about. I get a little confused when I notice the response does not match that of my friend and then I check and see it's another person.

• United States
18 Feb 08
No not really..... I wouldn't mind seeing an avatar of how the person looks though. I know, I know, some people don't want everyone to see what they look like, it a personal thang! There are ton's-o-cool ones though. Keeps everything more fun kinda. :o)

• United States
18 Feb 08
I don't really dislike anyone's avatar here. To each their own. My is about as dull as can get but that is all I had to work with at the time and now I have totally forgot how to change it, "if I ever decide to". My avatar is just something better than the little green one Mylot gave us to begin with.