I Saved Today by Being Thrifty.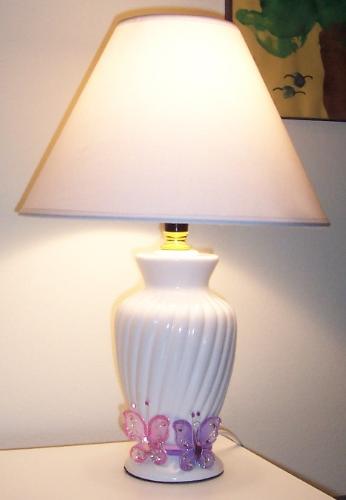 United States
February 24, 2008 1:51pm CST
I bought my 6 year old a desk yesterday, figuring her little Dora table that she's had since she was 2 was getting a bit small for her. Today I was looking at the desk and it seemed so plain so I decided get her a lamp too. I wanted a kid one, but they were SOOOOOOOOO expensive! They had these really ugly cheap ones for $20 and the the nicer ones were $45 to $65. Well I am not going to spend more on a lamp than I did on the desk, so I got creative. I found a small ceramic lamp for $4.99 and then I went to the hair section and I got 2 butterfly ponytail holders for 74 cents. So for $5.73, this is what I came up with.... What do you think?
10 responses

• United States
27 Feb 08
I love the feeling I get when I know I have saved money for my family. We are always needing a little bit more to get by and so every penny I can save is one we can use for something we really want. I know there is never enough money in life but a few extra dollars would really help us all.

• United States
24 Feb 08
I think you did a darn good job! Wow, that's one of the most frugal and creative ideas I've seen in a long time. You get an A+ in my book ...


• United States
3 Mar 08
That is so cute and creative! You could always change the butterflies to other things if you are just using pony tails also.. What a frugal mommie!! Hope you have a wonderful day! :0)

• United States
1 Mar 08
That lamp is adorable! I bet she loved it and will use it a lot. I don't like to spend more than I have to either. I try to hit clearance sales and buy things out of season so that I can get a good deal. My daughter just called from Wal-Mart and said that they had clothes for $1.00 on a clearance rack so I told her to look for all of us as you never know what you will find.

• United States
25 Feb 08
Awesome good for you. I LOVE when getting a good deal.


•
24 Feb 08
What a cute little lamp. And you did it at such a great price. My brother tells me that my middle name is frugal. Looks like I have some competition out there ;-)

• United States
24 Feb 08
I wouldn't say you were being trifty, but more creativy. Creavity can always be a good thing. It gives you a chance to do something that specializes your taste and toughtful enough to do something for your daughter. As long as it fits into both your ideas of what ya'll wanted, I think you did a great job. And saving the money in doing so, is an added bonus.

• United States
24 Feb 08
What a cute idea, thanks for sharing..:)