Racist groups using computer gaming to promote violence...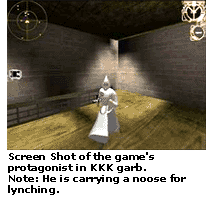 United States
March 9, 2008 9:07pm CST
On Martin Luther King Day, Resistance Records, a distributor of racist, anti-Semitic "White Power" music began to advertise Ethnic Cleansing, a CD-ROM based computer game whose object is to kill what they refer to as "sub-humans" — Blacks and Latinos — and their "masters," the Jews, who are portrayed as the personification of evil. The ads said, "Celebrate Martin Luther King Day with a virtual Race War!" Resistance Records is owned by the National Alliance, the largest and most active neo-Nazi organization in the United States. The premise of Ethnic Cleansing is that a city — clearly New York — has been destroyed by gangs of "sub-humans" controlled by Jews who are lead by the "end boss" lurking in the subterranean "Lair of the Beast." Plans for world domination are seen in the subway, along with a map of "problem" areas in the U.S. and a sign reading "Diversity, It's Good for Jews." I thought video games were bad enough as they were and always hated when my grandson got so involved in the shoot 'em up violent war games that he did but reading about this game made me shudder! Aren't they going a bit too far now? What would you do if you found your kids playing this game or any like it? You can read more about it at this site: http://www.adl.org/videogames/default.asp
3 responses

• Canada
10 Mar 08
Wow...what has happened to us? Have we stepped back in time? Are we responsible for this next generation promoting this. This makes me absolutely sick....and I guess I am from the old school, but I really feel that this is where censorship belongs! My head is spinning...why is violence so prevalent? Sorry, ctrymuziklvr, this makes me sick in my heart and soul!

• Australia
10 Mar 08
If I found my kid playing this game, or anything along the same lines, I would rip it out of the computer & trash it straight away. That is, I would break it up, so it couldn't be retrieved. Sorry, I am so intransient about this, but I will not tolerate racialism, ethnic cleansing, nazism or anything similar in my house. My daughter would play stuff like this. I'm not sure about my step son. He is easily influenced & was not brought up to be racially tolerant like my family.

• United States
10 Mar 08
This game sounds despicable. If my child wanted me to buy this game for them I would just say no. If my child was old enough to earn his/her own money to buy it, I would probably take it when he/she was not at home and throw it in the garbage. On the other hand, I would hope I could instill the value of all human lives, races and religions unto my child and he/she wouldn't ever consider buying such trash!! Video games are going too far and there should be some regulations regarding videos that are promoting hatred such as this. PEACE