Do you have small health issue questions but don't want to see a doctor yet?


United States
March 10, 2008 3:39pm CST
I don't like to have to see my doctor for every new little ache and pain I get so I usually search the internet to see what I can find before I'll call her. While clicking on links here on mylot I came across this site that seems very interesting and has actually helped me figure out what is going on with a problem I'm having with one of my eyes. All you have to do is click on your gender and follow the directions from there....it's very easy to follow and I personally find it very interesting. http://health.myfoxboston.com/HealthToolsDetails.aspx?which=healthybuddy&front_page=1 Check it out!
9 responses

• Canada
25 Mar 08
Thank you so much for this link. I just spent the last half hour reading up on one of my medical conditions and it explained more to me than my specialist has explained to me. There is no medical cure as in medicine, I can take for my problem with my inner ears, but it does explain that there are some surgery options to correct it. My doctor told me that there was no surgery to help me, so I tried to print the article about a couple surgical procedures but it wouldn't print. Only the header prints, the name of the condition but the body part won't print. I have what is known as Meniere's Disease. I have it so bad though, that it interrupts my whole life. I can't work, I can't drive, I can't do anything stenious. I have attacks at least 5 times a day and most people, according to this site, only have about 5 attacks a year. But I am still glad you gave me this link and I will take a copy of the link with me to my specialist in April, when I have another appointment and I will see if he will call it up on his computer and see it for himself.

• United States
11 Mar 08
If you have a small ache or pain, then it is okay to diagnose. However, with eyes, ears etc it is best to go to the Dr to get things checked out.

• India
11 Mar 08
I used to go to doctor for my health issues.but his treatments were not so effective.so when i get small health issues like cold,or some pain in the body,I treat it myself without seeing a doctor.

• Indonesia
11 Mar 08
I too don't want to go to the doctor for every small issues, but when it gets too hard to handle i would just go to the doctor. I'm having a headache problem these days, sometimes it would just hurt so bad. If i ever got one of those headache again, I will go to the doctor. You can try this site too, almost the same as yours, http://symptomchecker.about.com/od/symptom-checker.htm

• Turkmenistan
11 Mar 08
I use to be like this, before the internet craze. Now I am more likely to run to the doctor and then look things up on the internet after recieving a diagnosis. Recently I had blood work come back that indicated a problem, but the doctors could not figure out what was wrong. I tried to find out what the problem was online and it was very confusing.

• United States
10 Mar 08
Thanks for sharing I have bookmarked the site for future reference.


• United States
10 Mar 08
Since I don't trust doctors they are the last people I would go to.Luckily I don't have any health problems right now.

• United States
10 Mar 08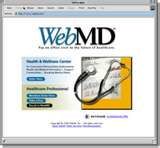 Oh isn't much easier to figure out what's wrong with us without having to go to the doctor every time? I love these medical sites however one has to be very careful in diagnoising oneself for it could be something other than what one might think it is and could be serious. Thanks for bringing this site to light!