Not so strong, please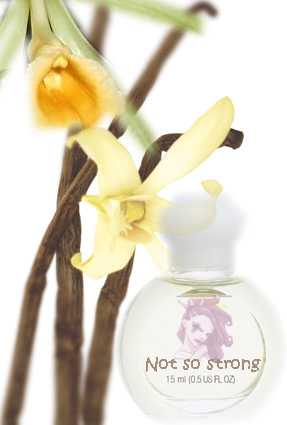 Canada
March 20, 2008 11:40pm CST
I like perfume. Everyone likes perfume, I think - in general:) However I have a problem with very strong perfumes. Those ones that we can smell two miles away. My daughter bought this vanilla perfume. I don't even remember the name.It's not too bad - at first. But it really is strong. Her room is in our third floor, we sleep in the second floor. Still, each morning when she sprays that vanilla perfume I have trouble breathing until the darn thing dissipates. I always thought of perfume as a gentle, subtle fragrance that people would have to be close to even realize how nice it smelled. So I am looking for another one less strong to give her on her birthday that is approaching. But it's not only my daughter, each day I cross paths with lots of people that either over do it in the perfume department - more like took a bath in it than sprayed it lightly - or use perfumes that are way too strong. I'm not allergic or anything, but it really bothers me so that's one of the only cases where I make use of my bigger personal space - a gift from being in Canada LOL . How do you feel about strong perfumes? Do you like them?
4 responses

• Philippines
21 Mar 08
Yes, I also hate those strong ones. I have an uncle who still uses the old Jovan musk, it irritates my noise and makes me sneeze whenever I smell it!

I'm not sure why he still prefers using it, since there are other perfumes that I'm sure he knows he could afford to buy.. I prefer those cool one's, just mild and not that strong to cause me allergic reactions.

• Canada
21 Mar 08
I can't even claim that I am allergic. But it really bothers me. LIke you I like a perfume that is mild and doesn't announce my presence two days before I arrive LOL

• Philippines
21 Mar 08
LoL! That made me laugh, really!

I also think that you can't be a P.I., if ever you put on a strong scent because that person you're following would recognize you even if your two miles away from them!

And also, I know I couldn't pull something secretly, because people would recognize that I came to that place because of that strong scent of perfume I'm using. My nose is too sensitive, I get allergic reactions to strong smells that came right through my nostrils!


• Canada
22 Mar 08
When I think of perfume,the first thought I have is walking thru Sears and not being able to breathe near the cosmetics section.Now i find I actually hold my breath (or not go shopping there) until I get to "fresh" air.My nose is so bad that either I do not smell it at all or it is too strong.I guess I like a hint of aroma if it can't be "au natural".

• Canada
30 Mar 08
Yes, a subtle scent is nice, but more than that it really bothers me. Sometimes it is the perfume itself that is a bit stronger. But more often than that it is the people that don't realize how much they are using - I guess this comes from using cheaper perfumes, that don't bind with the skin the same way.

• United States
21 Mar 08
I can't stand strong perfumes either and I always end up having that sickly feeling like I want to throw up and with a headache also. I use Dolce and Gabana called The One, and it isn't a strong scent for me but it is for my neighbor who has allergies so it might not be a good one for you either. Depending on what store you go to, I would ask them there to suggest a softer fragrance for your daughter and one that you would like too.

• Garden Grove, California
1 Apr 08
I will bet it was Vanilla Fields and thatis pretty strong andI found out my adult son is really allergic to it. I do not like strong perfumers myself. My boss where I used to work just literally drenched herself with Channelno 5 and you could smell it all over the library and someof the staff were allergic to itl. I love floral scents that are sort of elusive and gentle with just a hing of scent like a flowergarden moreor less. I think the perfume should just hint at fragarance and not hit the over the hit with it.