license plates and making up acronyms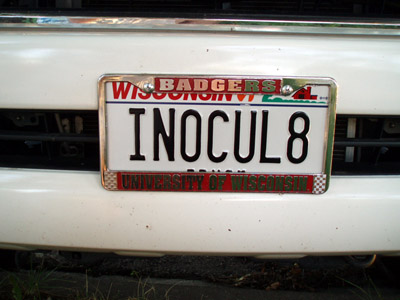 United States
March 30, 2008 2:31pm CST
Do you ever make up acronyms for the random letters on the vehicles license plate as you sit behind them at a light or in a traffic jam? I have often wondered if I do this just because I am a nurse and we have so many abbreviations in the medical field or if alot of other people do the same thing. Thanks for reading and responding.
7 responses


• United States
30 Mar 08
That is a funny one; can't believe they got away with it!

• United States
2 Apr 08
I don't do that, but I remember seeing a license plate that belonged to a urologist at the hospital in which I worked at the time. His license plate said "C Me 2 P". I thought that was pretty cute.

• United States
3 Apr 08
that is a cute one! Thanks for responding!

• Philippines
27 May 08
Hey there! I am an engineer and we also have a lot of acronyms to learn. But i don't do that. Maybe what you're doing is just a stress reliever when you're on a car or something. Am i right?

• United States
31 Mar 08
Oh yes! I do it frequently. It's one of my favorite traveling games. A variation of acronyms is to use the letters in the order they appear to form a word. You can have letters in between, of course. Here's an example. CFN could be ConFusioN.


• United States
30 Mar 08
I think everyone does that when they are stuck in traffic. You have to do something to keep from going crazy. I work in politics and talk about a field that has acronyms. My cup runeth over. We have acronyms for acronyms. I also try to see if I can make up words to fit the person in the car. I get stuck in traffic a lot.lol Shalom~Adoniah

• United States
29 Jul 08
My dad told me my license plate could belong to a licensed massage therapist since it has the letters LMT (It's not a vanity plate, just a regular one.) I will occasionally try to make words or acronyms from other plates. I've seen a few ending with PWN or PWD, which made me think of the Internet word "pwned." Another had the letters UFA, which I pronounced "oofah!"