Yummy last minute dinner

United States
March 31, 2008 8:39pm CST
It was 5:30, my husband was on his way home (later than usual) and the kids were about ready to make their own dinner because I they'd ask what was for dinner and I would stare blankly and say "I don't know". lol (OH, come on, I can't be the only one that does that!) Well, I had a bunch of fresh veggies, some chicken breasts, and some fruit. I cubed the chicken and browned in a frying pan- seasoning with Mrs Dash. Then I diced up some mushrooms, green and orange peppers, and green onions and added to the pan when the chicken was done. Just before serving, I added fresh spinach and tomatoes. I offered eating plain, in tortilla shells, or (my choice) in a pita pocket- yum! We also had a fruit salad made with grapes, strawberries, apples, melon, kiwi, and oranges mixed with a couple spoonfuls of vanilla yogurt. It was good and fairly easy! Do you like just tossing ingredients together to see what you come up with??
10 responses

• United States
1 Apr 08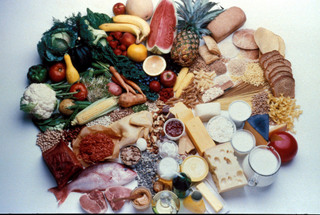 That sounds delicious!! YUM YUM!! I actually love just "throwing" things together like that but I'm always scared it won't turn out right. Last night I was craving italian and mexican and couldn't decide so I made homemade lasagna with taco seasoning, my own spicy marinara sauce with "taco" shredded cheese and it was delicious! We actually ate the leftovers tonight and we rarely ever eat leftovers!! It was mexican style lasagna. Weird, I know, but you haven't met my family!!;)

• United States
1 Apr 08
Oh I have had mexican lasagna before! lol. That is great you combined both your cravings like that- glad it turned out well!

• United States
1 Apr 08
I haven't had mexican lasagna before, but I love mexican manicotti. I put taco seasoning in the meat and mixing it with refried beans to stuff the shells (instead of ricotta cheese) then put salsa and cheddar cheese over it instead of marinara and mozzerella. Lasagna would be faster to put together and sounds good too.

• United States
15 Apr 08
MMMM, mexican manicotti!! Yummy! I love manicotti!! BUT mexican manicotti sounds even yummier. Have I told you guys lately that you seem to just keep me hungry all the time talking about all of this wonderful food that I don't feel like cooking at the moment!! :)

• United States
1 Apr 08
That sound awesome. I think my whole family would like that. I'm going to try it. We toss stuff together sometimes, when we get bored with the same old stuff everyday. We call it garbage casserole.

• United States
1 Apr 08
LOL! Well, it sounds good but I am no sure about the name!

Thanks for responding!

• Orangeville, Ontario
1 Apr 08
I stick to recipes. I wouldn't dare make something up on my own. I've served stuff cooked from recipes that didn't taste very good. I like using allrecipes.com. The recipes are rated so I can be pretty sure the meal will turn out good. Both last night and tonight I came up with last minute dinners. Last night I took a package of Olivieri ravioli out of the freezer and soaked the container in a pan of water to help thaw it. I also had some Olivieri rose sauce in the freezer and thawed it too. I then thawed some more with the microwave. I boiled the pasta gently for a few minutes and dinner was served. We have a cucumber and tomato salad and raw veggies with all our meals. Tonight's throw-together meal consisted of boiling some tiny potatoes and heating up some M&M's Italian Style Meatballs. They are soooo good. I poured bbq sauce on half the meatballs and served along with the salad and veggies. Perhaps tonight I can plan ahead for tomorrow's dinner and take something out of the freezer so it will be thawed in time to cook dinner tomorrow night.

• United States
1 Apr 08
Those meals both sound good. Your comment reminded me I am sure I bought a cucumber the other day but I don't recall seeing it in the fridge, I should probably dig it out before it goes bad... anyway, allrecipes.com is my favorite recipe site.

• United States
1 Apr 08
Wow, that sounds good (except for the tomatoes and peppers)! I used to keep pita bread or tortilla wraps on hand all the time, but I don't think I've bought either of them since Tom and I got married. I think I'll pick some up tomorrow. They're always good to poke something in to make a quick meal with. So you used the kiwi - was it good? Did you peel it first?

• United States
1 Apr 08
I always have tortilla shells on hand- the kids love them with melted cheese and they can all make it themselves- that is always a good thing. :) The kiwi was good...I tried it with the peel first but decided to peel it for the salad. It is hard to eat with the peel on just because of the appearance of it.

• Garden Grove, California
3 Apr 08
I love doing that and sometimes I get surprised at how good those spontaneous combinations are. I like to do that with whatever pasta I have on hand and add some veggies and left over meat and some tomato sauce and a lot of cheese and its always so good.

• United States
3 Apr 08
That sounds really good! I try to come up with new things to eat but none of it every turns out as yummy as your dinner sounds ;)

• United States
1 Apr 08
Sounds really good! I love tossing stuff together to see what I come up with. My sister calls them my "concoctions". The only bad part is, I never write down what I'm doing and there's been a few times when my family has requested a dish we had where I don't recall how I made it. Oh well!

• Philippines
1 Apr 08
this sounded really weird though! hehe i was able to make some las minut dinner but never tried tossing anything i find in the fridge! he he my brothers are really choosy with what they eat, it might be wasted if i do that - i am pretty sure they will notice.

• United States
1 Apr 08
I dont get to just throw stuff together very often because my hubby is a very picky eater. I tend to just stick with what I know he will eat. He's as bad as the kids. On nights he's not home I usually did out a few leftovers and throw something together from that.

•
1 Apr 08
that sounds tasty, and yes I often experiment not that it turns out exactly as you imagine but always edible