WooHoo!! Early Christmas present.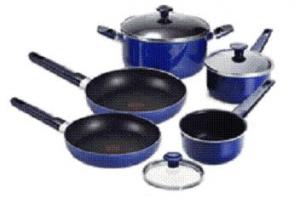 United States
April 2, 2008 1:54pm CST
Yeh this is current, I got the right month. I got an early Christmas gift from my mom. Big Lots was having a sale. So she had to buy them now and since I was with her and could use the present, she gave it to me early. This is what I got An 8 piece set of T-Fal non stick cookware. They are so nice, I am really happy with them. I got 3 skillets, small, medium, and large. I also got a Dutch Oven with lid, a medium size saucepan with lid and a spatula. This picture isn't the exact set that I got. The color is the same. I just wanted to share my good news. For discussion purposes, when is the earliest that you got a Christmas present? Also do you have T-Fal cookware? I have always wanted some, but they have always been too expensive.
4 responses

• United States
2 Apr 08
That is great. I have shopped early for my daughter for Christmas before too. I watch for special deals. I buy her the things on her list that I was unable to get for her the previous year. You can find some really good deals after Christmas and throughout the year. The things she has wanted has also been too expensive at the time, but become more affordable after the holidays.

• United States
2 Apr 08
Yeah. I know what you mean. I am glad that she got a good deal on it though. That is always nice to save money and get good products to give as gifts. I know she is pleased to be able to help you out. Alot of things are expensive these days.


• United States
2 Apr 08
Wow isn't it usually Christmas in July! LOL I wish I could have Christmas now! LOL Just one NIce gift would be nice! LOL

• United States
2 Apr 08
Yes its early even for Christmas in July, the cookware was on sale and I was with my mom, so she said I could have them early. Two years ago we had Christmas in July, My mom, sister and her kids and I, went to see my other sister in Florida, we did Christmas in July, it was in July too. She even put up a small Christmas tree, we haven't got to spend Christmas with her in many years. That was fun.

• United States
3 Apr 08
Congrats on your new cookware! Happy to know that you finally received it, and what a great Mom you have! The earliest I ever got an early christmas present was about 3 weeks before christmas. The present was a new outfit that I wanted to wear to a christmas party and didn't have the cash to purchase it at the time. It was an early gift from my hubby. I don't have T-Fal, but I do have cranberry Visions, love it, love it, love it!