The potato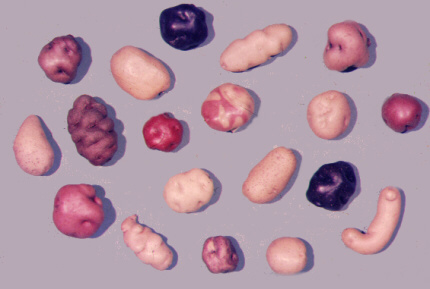 United States
April 3, 2008 8:50am CST
Potatoes are from the nightshade family. They are a comfort food and are the number one vegetable crop around the world. The potato contains 25% of the daily requirement for vitamin C and 21% of B6 along with potassium. With out all the toppings and deep frying a baked potato is an exceptionally healthful low calorie, high fiber food that offers significant protection against cardiovascular disease and cancer. Potatoes' reputation as a high-carb, white starch has removed them from the meals of many a weight-conscious eater, but this stereotype is due for a significant overhaul. A new analytical method developed by Agricultural Research Service plant geneticist Roy Navarre has identified 60 different kinds of phytochemicals and vitamins in the skins and flesh of 100 wild and commercially grown potatoes. Analysis of Red and Norkotah potatoes revealed that these spuds' phenolic content rivals that of broccoli, spinach and Brussels sprouts, and includes flavonoids with protective activity against cardiovascular disease, respiratory problems and certain cancers. Vitamin B6 is used in building Your Cells, Brain Cell and Nervous System Activity, Cardiovascular Protection, Athletic Performance There are about 100 different verities. They went from the Andes in south America to Spain and Italy before becoming excepted by the rest of Europe and returning to the United States during the potato famine in Ireland. I like my potatoes just about any way they can be fixed. I found these fact at Worlds Healthiest foods http://whfoods.org/genpage.php?tname=foodspice&dbid=48#descr I enjoy learning both how good for us a food is and it history. I thought you might enjoy learning more about the controversial potato too . What do you think will this information change your attitude about the potato?
3 responses


• United States
4 Apr 08
I don't peel all of my potatoes, it depends on the potato, the skin, and what I am making. I do like the skins on a poatato, specially when they are baked or fried. It is the extra stuff that makes them so good. I won't quit eating them, I have never met a vegetable that wasn't good for you.

• United States
3 Apr 08
I love potatoes and yes they CAN be very healthy for you the problem is what people LOAD the potato with, lots of butter or sour cream can make a baked potato a very high fat high cholestoral food.

• United States
5 Apr 08
That was a good read! I know back in the early days, people wouldn't eat them thinking that they were poisonous because of their relation to the deadly nightshade family. It's interesting to note that potatoes that are older and have the greenish cast are toxic and can make you ill if you ingest too much. Still, potatoes provide excellent health benefits. I think the lowly tater has gotten too much bad press over the years, it's not the potato that makes you gain the weight, it's what you put on it (butter, bacon bits, sour cream, etc.) Good article, thanks for sharing!

• United States
6 Apr 08
Really?!! I had NO idea that us RA people shouldn't eat potatoes! I was diagnosed in Feb. with that, and then two weeks ago the rheumatologist also diagnosed me with systemic scleroderma & lupus. So far they haven't given me any dietary guidelines, maybe I should go hunting some up on the internet and bring it up at my next appointment on the 23rd. I'm going to quit eating potatoes for a while and see if it makes a difference in the swelling and stiffness. Huh! Learn sumthin' new everyday! Thank you for this valuable gem of information!!