would you eat it if I touched it??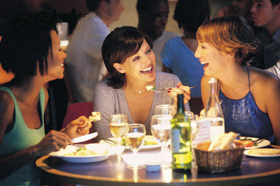 7 responses

•
20 Apr 08
I am fussy with my food, if something disgusting comes on TV it makes me gag and I can't finish my meal. A few days there was a fishing program on that my Dad was watching and the mealworms came on and I was like eww gross and I couldn't finish my chicken kiev, even though it is one of my favourite foods. It depends who it is that touches my food, if it is someone I don't know or someone I know does not wash their hands after going to the toilet (mainly boys) then I can't eat it. I am so glad I have one of those boyfriends that wash there hands after going to the toilet.

•
20 Apr 08
Yeah, I don't mind sharing it with my boyfriend, which is a good idea, because it does puppy dog eyes until I give him some lol, unless I am eating something he doesn't like lol. You just have to trust that the hygiene in the kitchen is good, since all restaurants should have high standards of cleanliness and hygiene.

•
20 Apr 08
yeh... whenever you are hungry, order food that he doesn't like :) Well I guess you are right... but sometimes when I am really hungry and just buy a sandwich from a small shop... You see them touching everything you are about to eat and automatically you think "have they washed those hands??" :)


• Philippines
20 Apr 08
i am not fussy with food too. but if you are someone i dont know for example we are in a same party and you touch the food i may not eat that. but at all times i really dont mind. specially when i am having a good time lol. there are more dirty foods out there than the one touch by the hand

• Philippines
20 Apr 08
yes, lets just go and have a good time. some fussy people are the one spoiling the fun and i dont want to be that person. i dont go out with friends that often because i am a very busy person so if i go with them i make sure we all have a good time. wink wink


• Garden Grove, California
23 Apr 08
Yuck yes I would really mind as peoples hands are usually far from germ free. It would be unsanitary and not safe to eat at all.some dogs and cats are even cleaner than most people's hands. why do you think thatdoctor and nurses wash their hands so often? It is because we pick up germs from all over on our hands and so they are not clean just because you cannot see the bacteria.good luck to you.

• China
20 Apr 08
Hi rombi001,generally,I don't mind if my friends or relative touch it.I will not eat it when strangers touch it.I see many people who really mind that.Especially some girls,I think they must have much cleanliness.You know everything is not very clean that you imagin.

•
19 Apr 08
If I wouldn't eat food if someone else had touched it I'd never be able to eat out, ever (I've worked for almost a decade in kitchens... I know what goes on with food in these places!). lol, buffets would be a nightmare! Also, when eating out (or at a party) my friendship group tends to be rather... piratical with food. The cries of "chip tax!" and "YOINK!" are frequently heard. Stolen food always tastes better :) That, and I always get to eat all the veg and salad on other people's plates. The joys of being an omnivore in a world of carnivores.

• United States
19 Apr 08
no im not but i dnt want ppl touching my food like my mom touches it at times and my boyfriend but thats it...i wont let no one else