have you ever seen squirrel?

China
April 21, 2008 7:36am CST
have you ever seen squirrel? i never seen it ,but my father said that he often saw squirrel when he was young. in my imagination, squirrel is much bigger that mice ,especial the tail ,but my father said that the body of squirrel was just as big as th mice. have you ever seen them?
3 responses

• Indonesia
21 Apr 08
Yes, I saw squirell everyday in my hotel I am working. We have lots of coconut trees and the squirrel just love it. I saw them everyday, even in a tree just in front of my desk. They often play and sometimes I brought biscuits for them. I put it under the tree and they'll pick it up after I leave. They look so cute eating the biscuits..

• United States
21 Apr 08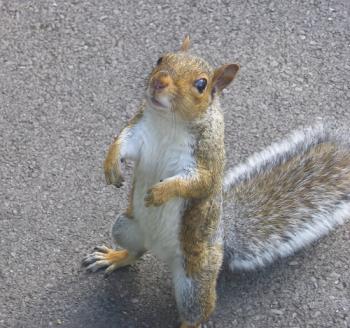 I have one that comes to my bedroom window every morning looking for food. I have to be careful to close the window or else she will climb in it. she knows we always have food out there for her so she comes every single day. I bought a thing of nuts for her one time and threw some out on the roof over the porch, which is right outside my window and since then she always comes back. she was here bright and early already this morning looking up at my window to see if anyone was watching. she is so sweet, lol at my old work we had a squirrel that would come to the picnic table at break time and climb right on the table and people would feed it.

•
21 Apr 08
Yes all the time here in the UK my daughters love watching them run around the trees in the park. A squirrel is a lot bigger than a mouse definatley its body alone is a lot bigger without adding the tail