Ever wonder what it would be like to Hit a Moose?

Canada
April 28, 2008 9:14pm CST
Imagine driving along a dark country road and hitting a Moose head-on. It happened to this woman who escaped with just a broken wrist. Moose are one of the worst Animals to hit on the road. They can weigh over 1000 lbs and stand high enough to slide right into the car through the windshield. This Moose slid right through the car, narrowly missing the driver who was lucky to escape with her life. The moose wasn't so Lucky. Moose come out onto the roads in the spring to lick the salt that was used for de-icing winter high-ways.
9 responses

• China
29 Apr 08

Hello barehugs. I am very interested in this discussion and found some pictures about moose. I find that they are very big animals. But I am still very puzzled how come I see quite a few pictures of mooses running into cars to lose their lives, also causing danger to drivers' safety and life. When they run so fast, they do not pay any attention to running objects on the road. I hope that everyone driving on the road in the North America pay great attention to mooses to make sure that both parties are safe. Thank you for letting me know something about moose through this topic.

• China
30 Apr 08
So we have to be careful with the moose during the rutting season while they are chasing each other on the road for whatever. It is better to be careful than not.Thank you for letting me know more about the moose.

• Australia
2 May 08
No, i've never really wondered what it is like to hit a moose! That is because there are no moose(s??) here in Australia to hit. Here you have to dodge kangaroos and koalas running or hopping across the road. Wow 1000lbs that's heavy stuff. Moose are a threat to society! danger!! Mooses ahead!
@
!

• Canada
2 May 08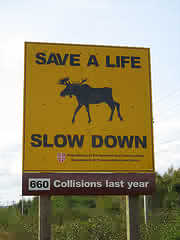 One Moose, 2 Moose, a whole herd of moose! Moose are a threat to the driving public! This Road sign shows the number of moose-car collisions last year. We have many wild animals living in the Vast Expanse of Canada's wilderness. Only a small area of Canada is Populated. The rest is a natural wilderness suitable only for wild animals and sparsely inhabited by a few tribes of native Canadian Indians.

• United States
2 May 08
No, I have never wondered what it was like to hit a moose. But by the looks of the picture you added it is amazing the woman made it out alive, and the only injury she had was a broken wrist!


• Canada
2 May 08
A horse is just as dangerous to hit on the road with a car, but although there are more horses in Canada than ever before, its very seldom one gets hit. One wonders why Moose are hit so often? I think its because they are such big heavy animals they have little to fear in the wild, and they don't consider a car to be very frightening.

• Canada
1 May 08
I've seen that picture before... there were quite a few other shots from the same accident in the email I once got. It is certainly a VERY scary thing. I had no idea that the moose are out licking the salt on the roads. Wow. You learn something new everyday, and this is today's lesson for me. :)

• Canada
2 May 08
Just looking at the picture scared the s-h-t out of me. I can't imagine the animal coming right through the body of the car. What would it have been like to have been a passenger in the back seat? There are no words in the language to describe how lucky that driver was!

• United States
29 Apr 08
I can't imagine being hit by a moose, but I sure would'nt want to be, I bet my car would be a wreak and I'd no doublt be in the hospital. I'm glad the woman was alright, and I feel really bad for the moose,as he didn't know any better I imagine.

• Canada
29 Apr 08
Actually, its the Moose thats hit by the car, in most cases. However in rutting season the Bull Moose can get very ugly! So upset, that he will attack a parked car with his antlers. When his anger cools there's not much left of the car. The woman driver in this case was very lucky to get away with just a broken wrist.

• Canada
29 Apr 08
Yes it sure it dangerous driving when it is possible a moose can pop up on the road. Many people a year die this way in different parts of the country. I was in Newfoundland one time. I was wanting to drive the highway to go visit a friend. People begged me not to go because of the storm but also and mainly the moose that will probably be out about the highways. I decided to take their advise sense I don't live there and figured the intensity in their voice meant they new what they were talking about. Do you think I was right to listen or do you think they were over reacting?

• Netherlands
29 Apr 08
I have had an accident with a dear once, me and my friends were riding our scooters and all of a sudden a dear came running over the street. It scared the you know what out of me, and I was lucky to have been wearing a helmet. Because my scooter was totally crashed.

• United States
29 Apr 08
Aww, that is so sad! I'm glad the woman is okay, but I hate to hear about animals being killed by cars and what not. I think it's horrible. I can't stand it, honestly, even if it's a little bitty chipmunk, I about cry!

• Canada
29 Apr 08
The story has it that the woman got away with a broken wrist, and badly in need of a Bath. I can imagine she was covered with blood, guts, and broken glass. I'd suggest you stick with your little bitty chipmuck. If you cry over a chipmuck, imagine the tears this lady shed over her Moose!

• United States
29 Apr 08
Woe....that would be really bad..It would totally destroy your automobile and may even kill you....This lady was real luckey to get out alive....A moose is really big...Even a deer can do some big damage,i cannot imagine what a Moose could do....