What kinds of bread are traditional in your country?

Cambridge, England
5 responses

• United States
21 Nov 06

• Cambridge, England
22 Nov 06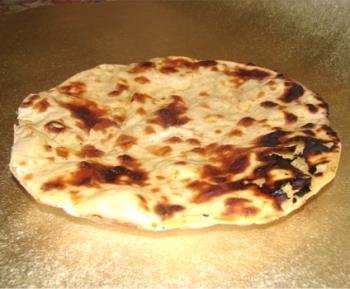 I found a recipe for it. I must try making it, though it is quite easy to buy in English stores! I don't understand how it rises if there is no yeast, though! This is a very basic recipe for the famous Indian bread, 'ROTI'. You can mix flavourings (savoury) in the flour and suit your taste. Notice there is no sugar, yeast or butter. It is very healthy and can be used for a roll-up meal. * All purpose or wholemeal flour - 500 gm * salt - a pinch * Water - 2 cups or so 1. Mix flour and salt nicely. 2. Add water, little by little and form in to a semi soft dough. 3. Keep aside for 15 minutes for leavening, cover the dough with a moist cloth. 4. Knead a little more(2 minutes) 5. Make egg-sized balls. 6. Flatten and roll on dry flour with a rolling pin; it should be 4-5 mm thick and round in shape. 7. Cook in a pan or griddle until a little brown on both sides.(Keep turning) Enjoy hot with curries or gravies, make roll-ups with meat, cheese and other sandwich fillings.

•
1 Nov 06
I don't actually think there is a traditional bread, oh actually Hovis is isn't it? My favoUrite bread is the freshly baked Hovis type loaf (unsliced). I usually just use Tescos own bread though, it tastes lovely toasted with some Stork margarine and some strawberry jam on it. Hmmm, I'm hungry now. :)

• Cambridge, England
1 Nov 06
Give me butter, every time!

• United Kingdom
1 Nov 06
milk loaf. My other half keeps telling me I have to try Blackpool milk loaf! I'd never heard of it before. I don't really know about others. I guess there are loads that I could say were traditional because they've been available for so long but I don't know if they originated here or elsewhere. And I don't really have a favourite bread. I like medium sliced brown bread with no bits, covered with Dairylea spread!

• Cambridge, England
1 Nov 06
I never heard of Blackpool milk loaf, either. But I had forgotten about milk loaf! That's the best bread to have with strawberry jam!


• Cambridge, England
1 Nov 06
I don't know that! Where does it come from? Do you have a recipe or a picture?

• United States
1 Nov 06
White bread is traditional in your country.

• Cambridge, England
1 Nov 06
Yes, but I was interested in hearing about YOUR bread!