What's the book that you've been wanting to buy?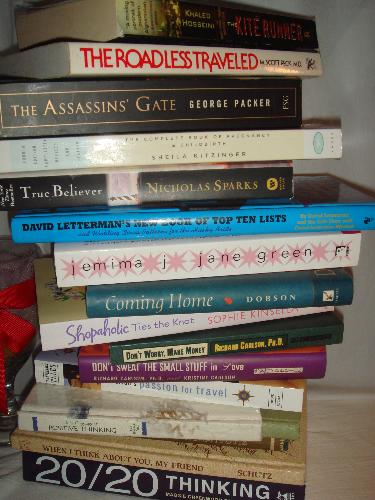 Philippines
May 6, 2008 10:42am CST
I'm fond of books, well with collecting. I admit, I still have some unread books stack on my bookcases. But I will read them all one day at a time. I just started collecting books of Nicholas Sparks and Sidney Sheldon, and some religious books. Anything you've been wanting to buy lately? I just want to keep my collections grow, that's all. If you could recommend me a book to read, let me know. Thanks! Have a great day y'all

4 responses

•
7 May 08
I'm unemployed at the moment, so I can't go shopping for non-essentials, but the next time I've got some spare cash I want to buy "Carrying the Fire", which is Michael Collins' autobiography. It's supposed to be really good.

• India
7 May 08
Well, I am waiting for buy two books and I will buy those soon . One is from my favorite author Irving Wallace " The Second Lady " and another is from Rajnish(osho) "Doli Upar Sez Piya ke " ... Thanks !!!

• India
6 May 08
I want to buy Surprised By Hope by N.T. Wright. It's a religious book, Christian book actually. I am also trying to get some books by Amartya Sen. Mr. Sen is one of my favourite Economist... since he is into welfare economics he writes lot of stuff on politics, economics, philosophy, history etc. I like Wright and Sen.

• United States
6 May 08
I have been waiting for the next installment by Dean Koontz on his character by the name of Odd Thomas. The next one is the series is "Odd Hours" and it is due late this month. There is another character series by Dean Koontz that I love to follow and, Koontz has been working on the 3rd installment in that series for a decade now and, he is hopeful to have it out in December of this year. So, I am looking forward to that one as well. Right now, I am reading Duma Key by Stephen King. I would have had it long since finished but, myLot has me all wrapped up in her addictive little wordy arms. LOL! But, I hope to finish it before "Odd Hours" is released so I can start on that one as soon as it is on the shelves. I also have another 5-10 books that I have bought and set aside since I got "Duma Key" and, once I have finished both "Duma Key" and "Odd Hours" I will delve into those! LOL! I have a ton of catching up to do! LOL!