Did anyone ever play with "helicopter" seeds?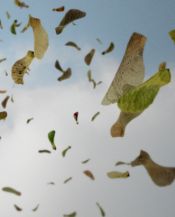 United States
May 11, 2008 4:57pm CST
I was out in the yard and saw a bunch of them and played with them for awhile before thinking I'd gather some up and send them to my sons in Arizona, as they'd never seen any. They're actually sycamore seeds and you can throw them up in the air and the look like helicopters on the way to the ground, spinning in place but with the end whirling around on the way down. I threw up a bunch of them and they were really pretty. We played with these as kids, had races with them. We had so much fun with these little things, it's amazing how children can entertain themselves with so little, and what wonderful memories!
6 responses

• Canada
12 May 08
Yes! I used to pick them up on my way to school and just let them go:) It was so fun. I'm hoping to see them comin' around a lot soon so I can show my two year old nephew them, 'cause he'd love it.

• United States
12 May 08
Any time now!! We had a VERY windy day today and this afternoon my yard was full of them! So they should be dropping very soon, have fun!

• United States
12 May 08
I used to spend alot of time playing with these also. They were so much fun. I still from time to time pick them up and watch them fly. When I was a kid I was always outdoors finding things like that to play with. Nowadays, you don't see kids out playing musch like that, they are always in the house with music, movies or video games. They just don't know what there missing out there.

• United States
12 May 08
They surely don't! Remember playing hopscotch outside? You probably don't remember skates with keys but skating down the sidewalk was fun. Playing marbles, tag, hide and seek, baseball in the back alley, all those wonderful outside games! Or just hiking down to a creek and catching frogs! It's too bad we keep our kids inside so much these days but with all the whackos that we let run around, we're all paranoid. And lazy, of course, it's much easier to sit them down in front of a tv or computer than actually playing with them or supervising them.

• United States
12 May 08
I personally don't have kids, but I know what you mean about all the wackos out there. I do remember when I was a kid going to the creek for tadpoles and crawfish. I always loved hide and seek and hopscotch. I remember one year on Easter we were all out in the yard after our easter egg hunt, with our hard boiled eggs. We had eaten all we could so we took our leftovers and played baseball with them. That was a hoot. I used to have one of the small swimming pools with the hard plastic sides that set up with a liner inside. I took the hard plastic side off and placed it on my hillside for a slide. I had the whole community of children at my house on my makeshift slide. We were out from daylight til dark back then and at dark we would be out catching lightning bugs in a jar. Those were the days. Nowadays, if your kids are out, they can't get out of eyesight, due to all the violence going on. It is really sad how our world has changed. No more hiking around the countryside unsupervised. It makes me want to cry, to hear all the violence and evil that is happening to our children nowadays.

• United States
12 May 08
I used to love those and play with them all the time!! We have them all over here in New York.

• United States
12 May 08
We drove through New York when I was a teen, it was so beautiful and so many trees!

• United States
11 May 08
It's funny you started this discussion. I used to play with them all the time when I was little. I was so fascinated by them and would probably spend thirty minutes to an hour out in my front yard and play with them. We had races and stuff with them too! Anyways, the other day I was at my grandmas talking to my older sister (my partner in crime) outside. And we saw a lot of them on the ground. We just laughed and started reminiscing about the fun we used to have with them and had a moment were we reverted back to our childhood and started playing with them. It was a fun moment!

• United States
11 May 08
Thanks for sharing that. It's wonderful to be able to remember those things and sometimes relive them!

• United States
12 May 08
twirlies? oh yea. we'd split them in half and make rhino nose too LOL the maple trees around here have helicopter pods too,we'd use those.

• Garden Grove, California
12 May 08
I have seen them but never played with them. what a clever idea of mnaking helicopter out of them. Kids have such wonderful imaginations its not hard to amuse them and you are right it does make wonderful memories too.