Frugal Tips You Wouldn't Want Your Family to Know About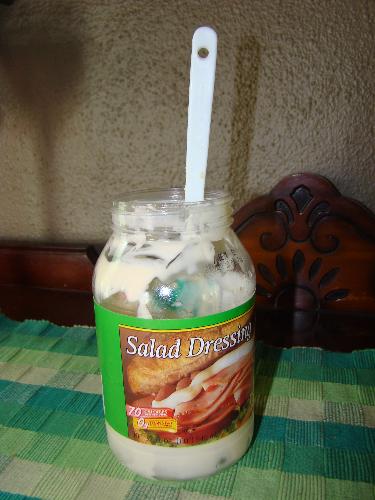 United States
May 25, 2008 3:57pm CST
When I was very young my mom would mix up powdered milk to save money. She knew that we did not like the taste of powdered milk, so she tried several ways of disguising the fact that we were indeed drinking mixed powdered milk. My own personal secret is that I mix store brand salad dressing in with the Miracle Whip to extend the jar. DH is a Miracle Whip officianado, so replacing the entire container would be a no-go, but mixing in a little of the other, less expensive, brand here and there doesn't bring any complaints. Okay, so we all have our limit to the extremes we would go to save money, but there are some of those extremes that we would not wish for our family to know. What are yours? Ready all? Shhhhhh! It's a secret. I promise not to tell your family, if you don't tell mine.
10 responses


• United States
25 May 08
Thanks cher913. My daughter is a senior now and is becoming more aware of how far our money doesn't stretch. She tries to assist in cutting costs whenever she can. Every now and again, she will have a lapse and ask for something more costly, and I will often give in because she doesn't ask all of the time.

• United States
25 May 08
This isn't something that I do, but I had it done to me when I was a kid and I know for a fact my step aunt does it to her husband and child. She keeps a box of the name brand cereal in her house and when she does the shopping she buys an off brand of cereal and just replaces the bag in the box. He never would eat store brand cereals, but because they were expensive bought them anyway and just made the switch every now and then and he was none the wiser. My mom used to do that to me too when I was a kid, because you know growing up you have to have all the name brand stuff otherwise it's not as cool as the other stuff.

• United States
25 May 08
Thank you for your response. My daughter and husband finally found a type of store brand cold cereal that they actually enjoy. Every now and again we will purchase a name brand, but they both now understand that when we purchase a name brand they either need to limit their portions or run out before the end of the week. When we are at the grocery store together, I can send them off to choose their cereal and most often they will come back the large bags of the store brand version of their favorite type.

• United States
26 May 08
That's funny, my mother used to do that same trick with the powdered milk when we were growing up. She mixed it up in the middle of the night and then put it in the regular milk carton and we didnt' know any different until I caught her doing it one night!! One of my tricks to put vegetables in things is to cut vegetables small, cook them in spaghetti sauce and then blend it so you can't tell there are chunks in there. The kids won't eat chunky spaghetti sauce and I'm not so fond of it myself, gotta trick myself too I guess! :-)

• United States
26 May 08
With the way prices are going up on everything, I am certain we will all have to look back to our youth for ways that our parents and grandparents cut expenses. I have a daughter who also hates chunky spaghettis sauce. I am not certain where she ever got the idea that there was anything such as a runny sauce, because I never fix it that way...lol. (I think her dad's family eats a lot of plain Ragu.)My spaghetti sauce always has meat, onions, peppers and fresh garlic. She is a trooper though, she will eat it, but just not ask for seconds. lol Thanks for your response.

• Gloucester City, New Jersey
3 Jun 08
Horsesrule, that's a great idea!! It increases the vegetable intake while disguising it! Kind of the idea behind the new V8 fruit and vegetable juices, right? I personally do like chunky sauce, especially with zucchini or eggplant in it, but your idea lets you put other vegetables in it as well. Great idea!!

• United States
31 May 08
I've been giving my kids soy milk (we bought a case last month) instead of regular milk. Both pride themselves on knowing the difference.. phooey lol. I've also been purchasing the bagged cereals instead of the expensive kind. The crunch is much heartier in these cereals but they still eat it up happily. So much for being brand loyal experts lol

• United States
3 Jun 08
Thanks for your comment. I think that our pallettes eventually become accustomed to whatever is put before us to eat. There have been times when I have purchased a name brand of something because it ended up being less expensive than the store brand and when we eat it...the taste difference is more pronounced. If you never have the other brand, you will be happy with what you have maybe???? I drink Arbonne Figure 8 Protein Drinks on a regular basis and love the taste, but when I recommend it to someone else I have to remember what I experienced when I first started drinking them. Because of the natural sweetener in them, it had a bit of a "twang" the first couple of times I drank it. Now, I do not notice it at all and often forget that there was ever that taste bud adjustment period.

• United States
30 May 08
I have heard of other people doing this. my son is a big brand name junky and was always complaining about generic food i could have done that and not had to listen to him complaining.

• United States
3 Jun 08
Sometimes I don't think the generic tastes the same as the brand name. For instance, I love Kraft brand macaroni and cheese in the box. It is almost twice the price of the generic in our store, so in the past I would buy the generic. Finally, because there were always leftovers and no one would eat them, I just gave in and decided that this would just have to be a splurge item for .35 cents more. We don't have boxed macaroni often, but when we do, it is going to be KRAFT Macaroni and Cheese.

• United States
30 May 08
There's not really anything that I hide from my family like that. My husband is usually game for trying whatever store brands I buy, which isn't many. Usually it's cheaper for us to just buy the name brand at the commissary, instead of going to Walmart or somewhere and buying the off brand. The commissary doesn't carry many things that aren't name brand. One thing that I do that my husband doesn't know about, though, is I add extra water to the juice when I mix it up. He says he doesn't like it when it's been diluted, but I usually add about an extra half can or so, because I don't like it if it hasn't been diluted at all. I still dilute my son's more, but he's only 2 so he doesn't even know what juice tastes like when it's not diluted!

• United States
3 Jun 08
Great ideas carlaabt! Adding a bit more water cuts down on the amount of sugar per serving as well. We don't drink kool-aid much here, but when we do, I will cut the sugar by a tad...not much though, because then no one would drink it..haha! When non-baking items require a bit of milk, I will sometimes dilute it with water by just a slight amount. My mom always added milk to our scrambled eggs, so that is how I learned to scrambled eggs or omelets. I learned from a chef in Naples, Florida that it is better to add water to omelets to make them fluffier! I was so excited and have never gone back to milk in my cooked eggs again.

• Canada
29 May 08
You know what's funny, even though it's not related to the question? I calculated out the price of powdered milk at our store, and for the amount of milk you get once you add water, it's cheaper to buy a jug of milk. We do funny frugal things, but we both know about them.

• United States
3 Jun 08
Yep. I think in the past powdered milk has been more expensive, but I have not compared prices since the skyrocketing of food prices everywhere. I keep powdered milk on hand in case I am baking and realize that someone used the last of the milk and didn't tell me...or better yet...just left the slightly above empty jug in the fridge...lol.

• Lubbock, Texas
27 May 08
All my children are grown and I'm divorced, so I don't have to trick my family any more. I never did really try to trick them, but I did mix powdered milk with whole milk. They could always taste it, but they drank some any way. They didn't mind it on their cereal. I've recently found a recipe that serves six people that uses only 1/2 lb. of ground beef. There is a big portion of mushrooms in it. I didn't think I liked mushrooms, but decided to try it because it was a recipe that would freeze well. I discovered using fresh mushrooms is much better than the canned ones. They don't have that chewy, trying to escape from your mouth feeling.

When I had all my family at home I just used ground beef for flavor, sometimes as little as 1/4 lb. in a rice or pasta dish to fill everybody up.

• United States
27 May 08
HI beaddoodler! I sometimes use powdered milk when I am baking. I need to do a cost analysis because it sures "seems" like powdered milk is more expensive than regular...although I just paid $4.59 for a gallon of 2% the other day. I know what you mean about fresh over canned mushrooms. I love fresh mushrooms, but despise canned. It makes me think I am chewing on oysters....which is sort of funny because I do like oysters, but not on my pizza or salad...lol.

• United States
27 May 08
Great tip amazon. I don't really like the salad dressing kind of mayonaise so, it doesn't really help me personally. I'll bet there are a lot of people on here that it will help. We drank a lot of powdered milk growing up to and I always hated it. What I do now when money is tight is buy whole milk and pour out half into a container. In the jug with the remaining half I add powdered milk and water. It tastes just like the 2 percent we usually buy!

• United States
27 May 08
Hey there! Yep...know what you mean. I do not like salad dressing on my sandwich. I prefer mayonaise. I don't have to cut that in half with store brand because that is what I buy for myself...lol. I have considered buying whole milk and just cutting it with a little bit of water to make it last longer. We generally only drink 2% anyhow also. I use 1% or skim when I mix protein drinks.

• Gloucester City, New Jersey
4 Jun 08
If you've ever received government commodities or received food from a food bank or buy through a group grocery discount program (like Angel Food Ministries or Share Food), then you may have received powdered milk (especially the commodities program) that you still have on hand. One thing I did to make it more "drinkable" was to add a can of evaporated milk to the water when making a gallon. The milk concentration kept it from tasting so watery. Also, if you use the powdered milk in your baking recipes or casseroles (that don't require whole milk), you can get more use out of it, even if that's all you use it for. If you're a big Bisquick fan (or you make your own), add some powdered milk to the dry mix to increase the nutrient power of the mix. It really doesn't alter the taste. Especially if you can't get your kids to drink milk, but they're big on pancakes or biscuits or other things you make with the mix. This isn't necessarily frugal, but it helps keep you from being "stuck" with unused dry milk.