Grocery shopping online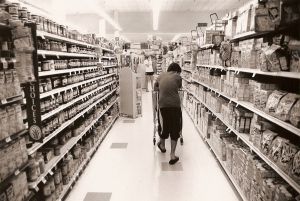 United States
6 responses

• United States
26 May 08
I don't know if I would wan to buy my groceries online, I think they might be spoiled or something by the time they got to me.

• Garden Grove, California
26 May 08
no they wont be spoiled as they take your order,package it just before delivery time slot and truck your order to your house. I have never had anything that was spoiled everything was just the same quality as you would get shopping in your favorite store.

• United States
26 May 08
I havent grocery shopped online because it is typically more expensive. I am going to experiment ordering from Schwans though because I live in a rural area and they have home delivery. It cost me gas to go to a grocery store.

• Netherlands
27 May 08
A supermarket chain here offers online grocery shopping. Only there is one humongous problem with it. They don't have the delivery service in my neighbourhood. I think that's so weird when you consider that there is a branch of that same chain right here! If they ever do start to deliver here and if they have the same prices and discounts as the store itself then I'd think about doing it online. It would greatly depend on how much they will charge for delivery. It would be nice not to have to lug heavy things.

• United States
27 May 08
I have never bought groceries from online before. I only live a half a block away from the grocery store. I used to order from Schwans but I never put my preorder in on the internet Shcwans has become to expensive to buy from now anyways.

• United States
26 May 08
I don't, but my sister does. Apparently several of her supermarkets offer that. She has now been ordering them online, and then on her husband's way home, he picks them up, saving a small delivery fee. She loves it and has wanted me to try it. I don't think I have those kind of places around here though.

• Garden Grove, California
26 May 08
I have toshop on line for groceries as I am partly handicapped and they do deliver. the charge is ten dollars and thats okay I usually order from Albertsons but sometimes I also order from Vons,technically they are Safeway,.The prices are the same as in their local stores plus I have club cards for both 'so I get all the sales items and discounts to that way.I shop this way as I cannot use my left arm to carry groceries easily while these big husky men have no problem carrying my sacks.