how much do you spend for a pet?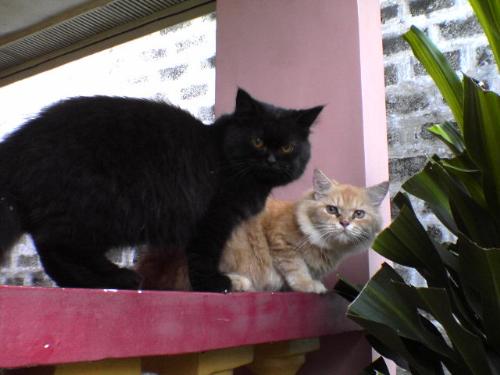 Philippines
June 29, 2008 7:38pm CST
Well I have pet cats.Persian cats.I also have a small aqurium which has a janitor fish and a ghost knife fish.For my fish..its not that expensive,I don't buy worms for them(unlike my boyfriends arowanas..he buys a lot of worms for his fish..he has a red-tail golden arowana and a silver one..the green arowana just died...sad)For my 2 precious persian cats..I have to buy their litter sand twice a month..for their food well probably I buy 2 bags/packs a month as well.When I get my salary there's a budget separated for them.I don't have a vet for my cats sad to say..but hoping that they will not get sick bec. they are properly and lovingly being take care of by me. ;p I don't mind spending money for my pets...for me they are not animals but they are my babies.Id rather buy their food than spend it for a night out or in buying beers..hehehe
4 responses

• United States
30 Jun 08
i spend for my guinea pigs somewhere around $25 to $30 a month to buy them their shavings, food, timothy hay, and their play toys. they eat like crazy, so, i have to buy them a bag of carrots too for the month. i like feeding my pigs. they eat all of the time. they make me happy seeing them eat all the time. thank you for talking to me about this question. that i like. :)

• Philippines
30 Jun 08
Well I actually planned of getting a guinea pigs(a pair that is)but my boyfriend told me(we live in one roof.lol) "are planning of making our home a zoo?"hehehe.I never miss going to a pet shop in the mall.Sad to say one of the mall here nearby the petshop closed I don't know why and it made me really sad.But atleast they have an animal clinic here which is also a one stop shop for cats and dogs needs and groomings.The petshop itself they sell guinea pigs and I like their toys and it seems that they are so exciting and fun to look at but what I just don't like is that the poops are really smelly and the timothy hay...if that's what you call it..is that the thing that looks like a shredded wood?well anyways...it's bad for me bec.I think it has some powder like in it and it will give me an asthma attack...well okay...I know cats came also trigger the asthma attack but well hoping I can also get one pair of guinea pigs and I'm sure my cats will love to look at it and will be curious about that cute creatures. ;p... well my boyfriend wants to get a tarantula or a snake as a pet and put it in a big aquarium in which he already has 2 arowanas..1 red-tail golden and 1 silver arowana placed in a 75 gals. of aquarium.;p .. so what do you think?are we creating a zoo inside the house?lol. thanks for the comment ashly1979

• United States
30 Jun 08
Aw, such cute guinea pigs in your avatar! Don't feed too many carrots though, they're high in sugar. My guinea pigs go through tons of veggies. Their favorite is cilantro. I probably spend about $5 a week on veggies for them, but sometimes less now that I found some discount stores nearby.

• United States
30 Jun 08
Pink17, you should be happy that the mall pet shop closed. Most of those places are really horrible for the animals. Even if the animals aren't visibly sick, they often are sick. And they come from pet mills. All of my guinea pigs were adopted from the shelters. If you decide to get some later, check a shelter near you.

• United States
30 Jun 08
That depends what you mean... For actually getting the pet, it usually isn't much because all of my pets are either given to me, found, or adopted from the animal shelter. Actually caring for the pet is the expensive part. With the most expensive part being vet bills. I've had guinea pigs that I've spent over $1,000 at the vet on. Whenever I think of getting a new pet, I remind myself about how much the vet charges.

• Philippines
30 Jun 08
wow is that how expensive it is to visit a vet.Here in the phils. it's around P300/vet.visit(that's equivalent to $1 = P48 pesos).Well to be honest I'm not quite sure how much is our dollar exchange rate right now in the phils. im too busy working and since I don't have dollars in my wallet,i really am not concern.well im just hoping that my pets won't get sick.and i do the groomings for my pets. ;p

• United States
30 Jun 08
The actual vet fee is only $50 to $65 here usually (they consider guinea pigs exotics, dogs and cats cost less). But ultrasounds run about $300 to $500. And surgeries are usually at least $250. I'm not sure how the exchange rate is right now either. The value of the dollar has dropped a lot recently so it's probably changed in your favor.

• United States
8 Jul 08
We spend about so far on average with our new puppy about 100-120 a month. This includes vet bills, food and toys. After this last visit though we should only have to spend about 20 a month on food. We paid 150 for him.

• Philippines
8 Jul 08
Well I guess no matter how much we spend to our pets..it's just okay bec.they give us joy and it relaxes us when we look at them.WE can't actually compare how much we pay the vets for our pets check-ups but the only reward for the money spent is the joy and their sweetness.

• Canada
30 Jun 08
I probably spend twenty dollars a month on cat food, and when I see cute little toys that my cat might like, I will buy those too. I spend about $10 on a bucket of cat liter every couple of months or so. When I travel I leave him with friends of mine who board cats, and pay his expenses there.