Bottoms up!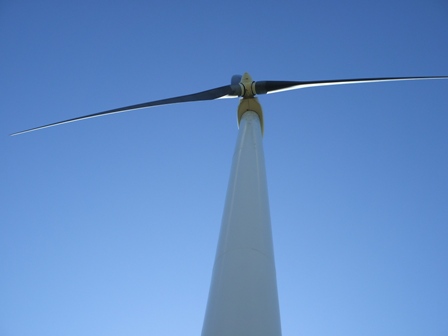 United States
July 19, 2008 4:12pm CST
Last weekend I traveled to my hometown for a family reunion. It's located on the western part of Minnesota on an area called the Buffalo Ridge. There are hundreds....hundreds of wind turbines they have installed to capture the wind energy. I took a picture from the bottom up! I also took some from a distance so you could see how many there are..but this one was fun.
4 responses

• Garden Grove, California
19 Jul 08
hi jillhill those are really interesting I remember seeing something similar but now I dont remember just where I saw them,perhaps it was in Minnesota at that. great photo.I wish our country would use more wind power, it might ease things a bit. cheers.

• United States
20 Jul 08
I do not see the picture anywhere, but I never see the pics people are discussing. They must appear later or something. Anyway, thanks for telling us about those fascinating turbines. I think that we are going to be hearing and seeing alot more about them, here in the U.S. over the next several years. What a fantastic sight they must have been!

• United States
20 Jul 08
We have an area in Oklahoma, it was actually featured on the show Dirty Jobs on the Disovery Channel, where there is an entire valley or field of those wind turbines. It is remarkable how many they have in that particular valley. I am glad though I don't have to get in them. On Dirty Jobs, one of the guys who cleans them on the inside was bitten by a rattle snake.

• United States
20 Jul 08
That wouldn't be the job for me! You would be able to hear me screaming all the way to Oklahoma from Minnesota if I found a snake in one of them! Glad I already got an up close and personal look at them because now I'm not sure I'll visit too close again! LOL

• United States
19 Jul 08
This is a funny post for a very serious situation. Thank you for bringing some humor to the problem. I wish it wasn't such a costly help to the power problem.