Dont you think mylot should have an option to make donations?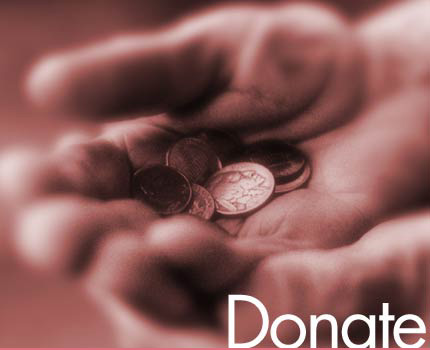 India
July 20, 2008 1:42pm CST
i have seen in many paid to post forums that there is an option to make donations to fellow members, i feel mylot should also give us the option to make donations to fellow mylotters. Suppose if some one helps us with a good answer or advice and if we really benefit from that answer we can show our appreciation by making a donation from our mylot balance. What is your take on this subject? I think it will add lot more fun to mylot! Please share your thoughts!
8 responses

• United States
20 Jul 08
Don't think thats a good idea because it would be open to abuse by others who are looking for an easy buck.On the other hand if you wanted to reward someone for their help here on mylot you could email them through this site and donate to their paypal , alertpay or strompay account etc.

• India
20 Jul 08
yes i know that such a facility would be open to abuse, but i feel mylot can fix the amount we can donate and the people who can donate based on their ratings. By donation i dont mean donating big amounts, it should be just to show our token of appreciation for a good response or starting a meaningful discussion. I feel such an option would add lot more fun to mylot!

• Manchester, England
20 Jul 08
I am in complete agreement with sirnose on this matter. It would certainly tend to attract a lot of hard luck stories and requests for help, which would only detract from the main purpose of the site and serious affect it's credibility.

• India
20 Jul 08
The system should work if adequate safeguards are put in place... the receiver of donation should benefit only from collective donations, and not from a single Donner. The limits should be placed very low so that the facility cannot be abused.

• United States
20 Jul 08
I think it could work but am wondering if myLot would be willing to do the transfers. It could be done at the end of the month as the payout date comes close. I would have a problem deciding on who to donate the money to because I get so many various, good responses. Overall, I can visualize this change but not sure it's something I would actually use.

• India
20 Jul 08
There were occasions when i felt that some person deserves more for his/her contribution, a donate option will be just the solution for such occasions.

• United States
20 Jul 08
There probably would be good and bad things about that idea, but if they could do it in a way that it was cheat proof, it could be interesting--to be able to give someone a little something for a really good response or advice. I know one site I'm on goes by points, and you are able to give points to other members. So, you are right, these systems are in place. When I saw the title I thought you were saying for donations to charity or something. And I would think that would be a good idea as well. I know on one site where you got points for a survey or something I was sick of waiting for it to build up, so I decided to go ahead and look at the charities they had that you could donate to, and put all my earnings into the charities there. Now, on mylot, I admit--I would probably not donate all my earnings, but I would give some if there was a charity I really believed in!

• India
20 Jul 08
i'm sorry for the confusing title. Yes! there were occasions when i felt that the person deserves more than a "Thank you sooo much" and thats when the donate option will come in handy. Only those with high mylot rating should be allowed to donate and that too with limits. Donating to charity is also great, Crash has already mentioned that he will provide some option for that.

• United States
20 Jul 08
Hey, it's no problem--I was happy to reply no matter what. :) It is a great idea I think, like you said, as long as there is a system in place for safety or whatever. Oh, that's cool that there has been talk about a charity option. I think it would be a nice gesture. The money I make here I am mostly gonna use for fun things I might want, but I would be open to putting a little of it into charity/donations if it was an option, I don't work, so this is really my way of getting a little pocket money of my own to be more independent.

Well, and I just love to be here as well of course, but the money is nice.

• United States
20 Jul 08
I know that they do that in Platinum Lounge where you can donate points to your friends. But, I don't know if it's really a good idea. I often feel like they expect something in return for giving me points. I think if it can be done anonymously, that would be great. But, your post also got me thinking that Mylot should allow donations to charities, instead, sending the money directly to them. I like that idea better.

• India
20 Jul 08
Anonymous donations is a good option, one has to have a great mind to do that though! yes! if you go through the question answer session with crash you can see that he has mentioned about bringing an option to make donations to charity.


• India
23 Jul 08
this is just to show our appreciation for a good/useful response from a mylot member, and not for any business purpose. I truly believe that it will add lot more fun to the mylot experience if it is implemented and good system is in place for its proper working.

• India
30 Jul 08
dont worry about technicals.... once the system is developed its not a big deal to implement them!

• India
21 Jul 08
Yea,I think thats also a very good suggestion.
Mylot could also have the option of donating our earnings to charity.
I think most of you will be bewildered if I say that only because mylot pays you many hesitate to join.Although the quality of mylot is even greater than yahoo answers,many prefer only yahoo answers.If an unknown person posts a referral link of mylot it is considered that the person who posted the links only aim is to earn money! So,I think this is a very good suggestion,as mylotters may be willing to donate at least a few cents on some occasions.I hope mylot implements it.

Cheers! Have a nice day Happy mylotting and happy earnings.

• India
21 Jul 08
Lets hope mylot implement these changes as soon as possible!

• Australia
31 Aug 08
I think it's a fantastic idea. I would love to see that happen. I think it would be very interesting to see who and why people would pay for certain answers, if at all.

• Indonesia
31 Jul 08
Hi. I think it has a bad and good effect. the good effect, it will make people active to respond more and more. But the bad, it will make conflict between poster and responder. example, if one posting that responded by five people, from five that, there is two people who give the best respond, it will make confuse the poster to judge who will get the donation. if he choose the first one, the second will feel unfair, maybe. so every people has their on opinion and viewpoint. this is only my opinion. don't get angry, if i say it is quiet bad suggestion.