Why won't my tomatoes go red?

July 21, 2008 2:22pm CST
Well, the latest update on my tomato plants is that they've been growing nicely and seemed to be doing really well until recently; we have quite a good amount of tomatoes now, but the problem is that they just won't go red!!! Even though they're supposed to be cherry tomatoes, some have grown to the size of a normal tomato, while others are smaller. But even though we've had some of them for a month or more, they are all refusing to go even the slightest bit red

. I water them regularly, they are in a nice, sunny spot (although the weather here has been a bit variable), and I also give them regular tomato feed. So you'd think they'd be quite happy...

Does anyone have any idea what I should do? Should I maybe be picking off the big ones? (I actually tried picking one of these as an experiment and it's been in a dark drawer for the past three days in the hope that it would get ripe, but nothing's happened so far!) Any advice or ideas would be greatly appreciated.

5 responses

• United States
21 Jul 08
Why would you put it in a dark drawer? Ih have never grown cherry tomatoes, but you may have gotten a new breed or something where the bigger ones still come through. Or some cross pollination from your neighbors tomato plants that causes this. Tomatoes take some time to ripen especially in cooler climates. They should start to turn red at around now unless you didn't have enough sunny but more rainy and cold days. Usually they get a greenish light yellowish hue before they turn colors. And yes, some don't but they are also not soft to the touch, but hard. They are usually smaller, too. If you have a soft one, take it off the vine and put it on a shelf in your kitchen or somewhere, upside down. It should still take a couple weeks but it should turn color.

•
21 Jul 08
jonesy, thanks for all your good advice. Hmm, that's a good question. The only reason that I put it in a dark drawer is that my parents used to do that with green tomatoes when I was little. I never questioned it and just assumed that's what you did! I realise now that it would probably be better to put them on a sunny window ledge like you say. It's interesting what you said about cross-pollination or a new breed, I never thought of that. We have had all sorts of weather these last few months, there have been lots of rainy, humid days, but we've had a fair bit of sun as well. It's reassuring to know that they can take some time to ripen though, maybe they haven't had as much sun as they need and I need to be more patient. It's strange you should mention about the colour because some of them, especially the bigger ones have gone dark green at the top and light green at the bottom. I don't know what this means for their chances of turning red. They are also all quite hard, not soft. What do you think?

• United States
21 Jul 08
They seem to start the turning process. Don't press hard anyway, or they get bruised. They should get softer soon in the lighter areas, but it'll take a while. Tomato plants do need lots of watering to the roots, never the leaves. Somehow they don't like anything but rainwater to the leaves. Anyhow, give it about another week and you should see some progress. Do you still have the package info? Some of the late varieties take longer, too.

•
21 Jul 08
Thanks for replying back. I'll see how they go over the next week or so. No, I don't have any of the packaging information so I'm not sure what variety they are, just that they're meant to be cherry tomatoes, even though some of them are pretty big! Thanks again for the advice.



• Canada
23 Jul 08
I think it is a matter of patience. We are still July and here in Ontario, August is as early as we usually see red tomatoes. The first ones are always the slowest to ripen but once the first one does, it is almost contagious. Patience...

•
24 Jul 08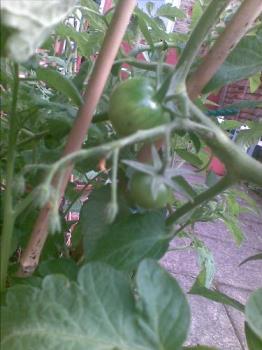 Yes, it seems like I was waiting a long time. I've got a couple of reddening cherry ones now, which is really good. Doesn't seem contagious yet as the others are showing no signs of turning, but I will watch and wait! Thanks for your answer.

• United States
21 Jul 08
If you're not having warm weather, that could be your problem. I wonder, though, if you got a bum plant, since you said that the size is inconsistent among other things.

•
21 Jul 08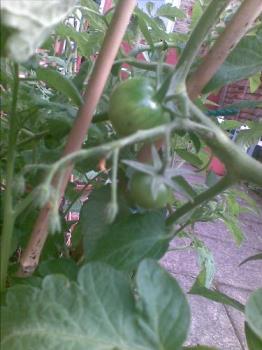 Yes, it could well be the lack of sun I suppose. I'm not sure about it being a bum plant as it's not just one plant that's the problem, I've got 10 or more plants, and the tomatoes are green on all of them! However, I suppose that the seeds could originally have all come from the same tomato or from tomatoes from the same plant, and maybe that was a dodgy plant(?) Thanks for your answer.

• United States
21 Jul 08
My husband planted several tomato plants. Some are the small tomatoes and the others are regular tomatoes. All vines have lots of tomatoes. He has picked a few pinkish looking small ones and they've ripened sitting on the cabinet. But not one of the bigger tomatoes has ripened, which is very unusual. They are in full sun, too. He thought perhaps he got some bad tomato plants. But I actually think it's because of hardly any rain this year. I don't think it helps to pick the big green ones. We've never had any success with them ripening when picking them green. I think they need to start turning first.

•
21 Jul 08
Thanks for your opinion Barb. The big ones you have sound the same as mine, it's very strange. It seems like other people are having these problems this year, whether they're in the UK or in the States. Maybe it's due to some weird effect of climate change... I'll see what happens with the one I picked, but I'll probably end up leaving them on the plant to ripen, and just hope that they do some time!

• United States
21 Jul 08
They don't have green baby tomatoes do they. I have been growing cherry tomatoes for a long time. I have never quite seen this happen.

•
21 Jul 08
Thanks for your reply. Hmm, no, don't think they are meant to be green tomatoes! I think I must have some strange ones here. Either that or we're not getting enough sun maybe?