How short do you like your miniskirt?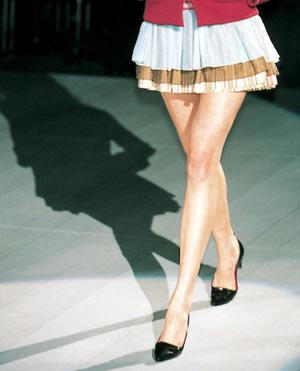 Canada
July 29, 2008 10:26am CST
The hemline of miniskirts go up and down depending on fashion. Over the years, the mini has gone from very revealing to barely above the knee. If you're a woman, how short do you prefer your skirt, or how short do you dare wear it? For men, what do you like to see when a woman wears a miniskirt? As a man, the answer isn't obvious to me. I don't automatically go for 'the shorter the better'. I prefer to see something sexy, but classy, and not too revealing.
5 responses

• Philippines
29 Jul 08
I don't wear minis because I have really fat legs. :( It's one of the fashion items I regret not being able to wear. I think a denim mini with a white tank top is really chic. Too bad I can't pull it off. I've seen girls my size wear mini skirts and it wasn't really flattering at all. :( Sorry I can't contribute to your discussion, I just wanted to post a response because I like mini skirts. :P

• United States
29 Jul 08
I prefer mine about...4 or more inches above the knee if I wear a skirt. I don't wear skirts very often but when I do, I like the ones that have shorts built in under the skirt. I am very petite, 5'1 and I wear size 0 or 1. Anything that is near my knee shortens me and makes me look frumpy. I think I have nice legs so why not show them off? It's not like anybody can see anything they are not supposed to and I am not in the practice of popping up my skirt unless it's an accident lol.

• Omagh, Northern Ireland
29 Jul 08
I'd go along with those guidelines of yours..My preference would be somewhere between bigger than those incredibly short "belts" of a skirt and above the knee! Nice Legs look good in any style of a skirt,IMHO..

• Brazil
29 Jul 08
auhauhaa... i do not wish to see my girlfriend using such thing but i will love to see a lot of girls with it minimum possible xD if can walk without is better =p thanks, Scorpionok.

• India
29 Jul 08
Hi friend, i generally don't wear skirts.If the situation comes like that if i should wear than i wear it upto my keens.I don't want my self to be out. Have a nice day.