What's your favorite room in your home?

United States
August 8, 2008 12:46pm CST
Do you have a favorite room in your home? If so, which room is it and why? My favorite room in my home is my sunroom. It runs the length of the back of my house. One side of the room is carpeted and we have a sofa, loveseat and several chairs, including a really cool hammock chair we got when we were in the outerbanks of North Carolina. My couch and loveseat are offwhite and I've decorated in blue accents. I've also made a couple of afgans so that no one gets too chilled on cool nights. My favorite thing to do is to take a great book and sit in my sunroom while reading. I can look out on my lovely backyard and listen to the birds singing. When it rains, it is an awesom place to sit and when it snows it's like a winter wonderland.

5 responses

• United States
8 Aug 08
I'd have to say that it's my room that's my favourite. Outside the window I can overlook part of the city where I live and beyond. My bed is here, where I spend half of my time, and my computer is also here where I spend time on the Internet and accomplishing work. My living room would be the second favourite. It's comfortable, has a TV, and i eat here.

• India
8 Aug 08
well,my favorite room is bed room(dont take me wrong,im just 17,lol

)...i love to sleep...especially waking up late in the morning is one of the best feeling for me...hmmm...i love to sleep... i can sleep 15 hours straight...i'll sleep atleast 13 hours on sundays... moreover my computer is in my bedroom,that also one of the reasons why i like my bedroom... Goodday, Sri

• Philippines
8 Aug 08
I will go for the kitchen. I want to eat and eat and eat. I want to make chills, prepare snacks, favorite food. I want to shake, salad, pasta lol. It is indeed, the dining room and kitchen.

• United States
8 Aug 08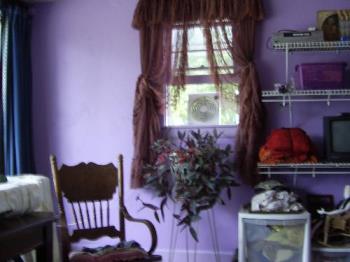 I have wanted a sunroom for ages!!! Yours sounds perfectly delightful! I think you should have posted a picture of it. Where I am right now my computer/sewing room is my favorite. It has a huge plate glass window so it lets in lots of light, therefore I keep all my plants in here, and some of them are pretty huge! Plus, all my art and sewing supplies and fabrics are in here so I always feel like an artist in this room. My computer is in here so I also feel very 'connected' in this room. And to top it off I just finished painting it a lovely shade of violet! But if I want to get cozy and read I have to go to bed to do that, hehehehe.

• United States
8 Aug 08
I have a favorite room that happens to be my living room. It is pretty cozy and not really big but I like it just the same. I like to try to keep it clean although I do have a four year old. You know, he colors in his book and plays with Legos. Other than that it is a nice rest area for watching television and using the computer.