Does This Really Taste Like Cucumber?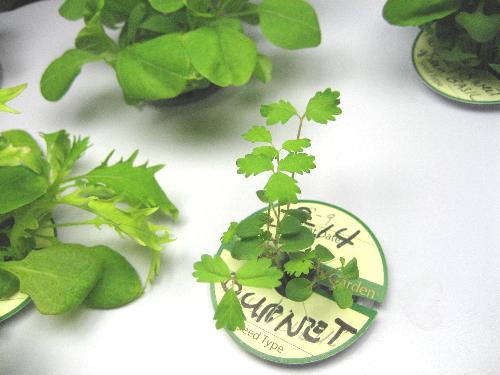 United States
August 24, 2008 3:11am CST
A cyber friend gave me some seeds for a plant called Salad Burnet. It looked pretty in her garden and she thought I might like to try growing some. She said it tasted good, too, rather like cucumber. Below is a photo of the Salad Burnet just 10 days after planting in our AeroGarden . It is not big enough to nibble on, but I am most grateful for such a nice gift, and cannot wait to munch some. Do you think it will taste better because it came from a friend? Have you ever eaten this herb? Did it taste like cucumber? Have you heard of any other leafy herb that tastes like cucumber? Do you like cucumbers and/or ever grow them? This plant has had some other names in its long history as a garden favorite. One is Toper's plant, so named because it was used to flavor "spirits" and it was also called Bloodwort and Pimprenelle. Although the spelling is different, that name calls to my mind the movie called The Scarlett Pimpernel, which I enjoyed greatly.
9 responses

• India
24 Aug 08
Hi drannhh, i have not tried this but i have grown cucumber in my garden. and every time when a baby cucumber is growing, my stupid dog eats the cucumber. well he love it very much, thats why we all keep the cucumber plant safe away from him.. but still he manage to eat it..

so now we have stop planting it. thanks and enjoy

• United States
24 Aug 08
I have never heard of it. I might have to look for some though. Nice use of your aerogarden though. I had two pods that didn't do anything the seeds were not viable for some reason unknown so I took the sponge out and threw out the seeds washed the sponge thoroughly and then placed some new seeds in them...we shall see how they do. Did you buy some empty seed pods? Do they sell them like that?

• United States
24 Aug 08
Glad to meet another Aerogardener here on myLot! Yes, I bought the Master Gardener kit and have used and re-used the empty seed pods many times over. If you call AeroGarden customer support, they will gladly send you new seeds, by the way. The manager of their Customer Service is a member of the AeroGarden Growers Community Forum, which is a great bunch of helpful and friendly people. If you have not joined already, I hope to see you there: http://www.aerogardengrowers.com/ They sell replacement sponge and label packs by themselves, too, and although I've used rockwool and some other things, I still like the AeroGrow sponges the best when re-using the pods. Your new seeds should do just great.

• United States
24 Aug 08
I joined the forum. I will look around in there later. Thanks again!!


• United States
24 Aug 08
I've never heard of this but am going to have to look for it - I love cucumbers and although I planted some in my garden this year they haven't done well and I've only gotten a few cucumbers that were eatable. I've never tried an AeorGarden but have seen them and thought of trying it sometime particularly in the winter months when my garden is covered in snow.

• United States
24 Aug 08
I love my aerogarden. You will love having one if you get one. I put my flat of seeds that I have started right beside mine so they get some of the benefits of the grow lights.

• United States
24 Aug 08
It would take a Deluxe or Pro model to grow full-sized cucumbers in an AeroGarden, but as more and more people are growing them hydroponically, they are coming out with more dwarf varieties that would work well in any AG. I second SweetDesign's remarks and hope you will also visit the AG forum where many members post photos of what they are growing and exchange ideas.

• United States
25 Aug 08
I will do that when I get a chance - should have known there's a forum for just about everything these days. I do have a nice spot in the house where I live that I think I can grow some veggies year round - it's a loft with skylights and lots of windows. I'm going to try it this winter with a few things and see how they do.

• United States
24 Aug 08
I have never tried it, either eating it or growing it. I think that you will have fond memories every time you eat it, and that is a good thing. I have heard, but have never tried, that Borage both leaves and flowers, tastes like cucumber. Please let us know when you do try it.

• United States
24 Aug 08
Yes! Healthy borage is said to have a similar flavor although the texture is much different. It would be interesting to grow some of that side by side with the salad burnet and compare them, but I don't know if Borage is as heat tolerant. They say, too, that the borage leaves are fuzzy. Dunno if I would like that. The borage flowers are prettier though. Another name for the salad burnet is Toper's plant, for the obvious reason that like borage it is used to flavor gin.

• Lubbock, Texas
24 Aug 08

Now you simply must get some lovage to go with the salad burnett. It tastes like celery. I haven't been able to grow it here. I don't have room for an indoor grow light and my soil is not suitable for lovage.

• United States
24 Aug 08
Yes, yes, and yes!! Lovage and angelica are two that interest me much! http://www.botanical.com/botanical/mgmh/l/lovage42-l.jpg So pretty, too! I was studying up on what they call Leaf celery recently and thought I'd try some, but this looks even better: http://www.territorialseed.com/product/870/s?gclid=CIzYrrzSp5UCFQ8QagodQincjw Territorial is out of stock on the seeds at present, but I'll keep lookin. Thanks for a terrific suggestion as I love learning something knew. It is so hard to pick out best responses, but surely your contribution of the Lovage to this discussion merits one :-)

• Lubbock, Texas
25 Aug 08
AWWWW thanks! I love sharing the little bits of knowledge I've picked up here and there.

• United States
26 Aug 08
I have never hear of or tried this type of herb. It sounds really interesting to try. I love cucumbers and so does my son. I bet it would be a great salad topping. I think it will taste better because it came from a friend and you grew it yourself.


• China
25 Aug 08
It is a pity I have never taste it before. There are lots of things taste like cucumber. Watermelon, for example, I think it taste like cucumber to a certain extent though it sounds ridiculous. Also, hami melol taste like Cucumber though it is much sweeter.

• United States
25 Aug 08
I think your hami is similar to what we call cantaloupe and although we think of one as a nice fruit for dessert and the other as something for a salad, actually, aren't they in the same family of plants? I think they are. If I am wrong, someone here will correct me. Here is a recipe for a healthy cucumber/melon iced drink: http://recipes.sparkpeople.com/recipe-detail.asp?recipe=325894 Enjoy !

• Canada
25 Aug 08
I don't know salad burnet nor did I ever heard of it, but I will be waiting for your verdict on how it tastes and if it really tastes like cucumber I"ll do my best to find it LOL I don't know if it will taste better because it came from a friend, but I would be very curious to try it. I Love cucumber, but as you know , I am not the best with plants. I am however quite interested in your aero garden because it has been in my mind for some time. Who knows maybe I wouldn't be able to kill much with one of those and the thought of having some greens right at hand is a positive one:) Don't forget to update us once you try the salad burnet. I"m curious :)

• United States
25 Aug 08
The tiny little leaf I snuck this morning was somewhat bland but did have a bit of cucumber taste, and a very nice texture, too. I will certainly update myLot on the progress of this plant, but I think it is a keeper. I can't grow much of anything in dirt either. Of course, I do have the convenient excuse that we travel every few months, but that is the beauty of the AeroGardens. They produce very fast so it is possible to get edible food in as short as one month with the fast growing greens and in 3 or 4 months with some of the other things like the hot peppers we got to taste this summer. They would have kept producing several more months had we not moved again. The only problem with them is once you get one you will love it so much you will indeed want another one right away.

• Philippines
25 Aug 08
I don't really eat cucumber so i don't know what it tasted like... but looking at the photo you have of your Salad Burnet... seems like you have another beautiful baby in your garden... and you AeroGarden is doing a good job... i wonder when it will be available in my country... i searched for one at the mall and grocery... but they are not yet sold there... Well, enjoy your Salad Burnet... and i hope you have more and more...