They've Packed Their Bags And Gone!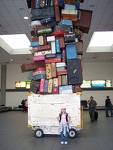 United Kingdom
August 29, 2008 9:55am CST
Remember those damn mossies that kept biting and harrassing poor wolfie? Well thanks to you wonderful Mylotters who helped a wolf in distress They have finally gone, they've packed up and left in disgust, a few of them looked green around the gills too! Thanks also to GARLIC! Yes I bought those garlic capsules and have been taking them and touch wood (touches my head!) I haven't had one single BITE! No longer am I an all night diner for them to feast their little feelers on No longer am I a meal ticket for them Good riddance to bad rubbish So have you ever been glad to see the back of someone, or indeed someTHING?? Wolfie is triumphant he's beaten the mossies and in case they decide to come back I have just invested in a bug zapper that electrocutes the bleeders!!! Then wolfie suddenly blushes terribly as he remembers the no weapons discussion and slowly hangs his head in shame.
8 responses

•
29 Aug 08

I have one of thos bug zappers for flies and my son giggles at me chasing them around with it, although putting a bowl of black pepper keeps flies away. I am glad the garlic capsules seem to be working. Read the one about the guy in Borneo eating garlic too. Ellie :D

• Singapore
29 Aug 08
Lol, I remind we used to make it a game chasing mosquitoes, seeing who can hit the most of them.


• Canada
29 Aug 08
well wolfie, it seems they have relocated here! seriously, here in canada (well southern ontario where i am) the summer has been a very damp and cool one, hence more mossies. my daoughter and i have suffered terribly from our bites swelling up like dollar coins! alas, fall is almost here :-)

• Canada
29 Aug 08
http://www.mosquitorepellent.com/white-appliance.asp I can't say enough about this product, I'm in your neck of the woods cher and it's been a very good thing this summer. Give it a try, you can get them pretty cheap now.

• United States
29 Aug 08
It is easy to talk peace, until you come under attack. The garlic is a good choice for you to take as it is good for your heart and blood pressure as well as repelling insects. I also believe that my son's love for garlic is what helps him stay healthy most all of the time. I bet you sleep better now.

• Singapore
29 Aug 08
Lol Wolfie, It is a survival world and you do what you must. You are a wolf and they are mosquitoes who dare to meddle with a wolf!

But do note that mosquitoes come in seasons... they are not usually bothering you at the same place all year round... they have holidays of their own too... And so, take a breather while you can... be ready for the next round.


• United Kingdom
29 Aug 08
That reminds me of the old atari game space invaders you'd kill off all the aliens only to have another screen of them and they would NEVER end, as fast as you killed them the faster they would come, screen after screen after well you get the picture and so do I. I will be waiting like Michael Caine did in Zulu for them!

• Singapore
29 Aug 08
This reminds me of a flash game I recently played. I killed every single monster at the last stage and as I relax while I see my units march past the enemy gate, suddenly a monstrosity appeared that is as powerful as every enemy unit in every stage combined.

• Australia
29 Aug 08
wowww... that's really good news... i'm glad that they decide to migrate to another place and stop harassing you... wolfie is always a winner, isn't he??? he always has a way to defeat his enemy... :-) hope they won't decide to come back and attack you again... but even if they do, i believe that you are prepared by now with your weapons... :-) take care and have a nice day...

• United Kingdom
30 Aug 08
They've messed with Wolfie, they've paid a price, indigestion and feeling icky from trying to suck garlic out of me!!! Can't believe something as simple as garlic was the answer! If only other things in life were that simple to solve. Take care too my friend ;0)



• Garden Grove, California
30 Aug 08
hi wolfie gladd the mossies are gone whoever they were, sounds like some sort of bugs. so garlic did the trick. please help this poor American out here and tell me just what a mossie is, oh my finally got it, you mean mosquitos right? Wish I had known in my youth about garlic getting rid of the little blood sucking mossies, love that name. I lived at that time in south Dakota and in the summer we had swarms of mossies that seemed to like my young blood so much. talk about bites I was just covered with them and as a kid I would scratch the darned things which did not help either

• United Kingdom
30 Aug 08
My pet name name for them, I can think of another name for them but I am too much of a gentleman to utter an expletive on Mylot! It's amazing though how something that small can produce something so hideous and big on your poor body, like mumps and you just want to tear them to pieces the wounds that is because they itch like hell! Toothpaste is good to stop them itching but when you have hairy legs like Wolfie it sticks, OUCH!