Making life enjoyable

United States
August 31, 2008 3:00pm CST
Some people think life can be enjoyable unless you have a lot of money and plenty of time to do whatever you want. I don't believe this. I think life can be enjoyable for people of all income levels. We don't have a lot of money, and certainly not enough time to do everything we want, but we still enjoy life overall. The thing that makes this possible is because we have each other! My husband and son mean the world to me. No matter the hardships we've faced, and there have been plenty, we stuck together and helped each other. There's a lot to be said for that. We all know that family and love are the most important things in life, not how much money you make or where you live. Just spending a day hiking in the woods as a family is something we all love. It gives us time to discuss what's been going on in each others lives, get some exercise, and just be together. Watching a movie on television is fun too. Our son is sixteen so he likes a lot of the same movies we do which is very cool. We all really like the comic book movies and there seems to be one of them out constantly. Taking the time to talk with your family and seeing what they think about different topics is a great way to spend an afternoon. You never know what you might learn or what new ways you'll find of looking at things. My husband is gone from home quite often. On those occasions, just talking to him on the phone makes life enjoyable. Take the little things that life offers and expand on them. Count your blessings for every day you have with your family. Love one another and life will be enjoyable!
8 responses

• United States
1 Sep 08
Hello there, sunnflr. My husband said something to me once that had a profound effect on me. He said, "Any problem that can be solved with money is not a problem." Now, I had to take a minute to think about that one. But, it is so true. Because, even though we weren't all that well off financially, we both worked full time and had done so for years. We knew where our next paycheck was coming from and when it would come. We knew we would be going to work everyday. And that we would pay any bill that came along, no matter how long it took us. Or we would make arrangements for them to be paid. We were (and are) very responsible people. I realized that what he said was so very true. That statement by him profoundly changed me. The way I would worry or fret about certain things that were a waste of time changed dramatically at that time. Yes, enjoying life is often focused on loving others and being loved, that's for sure. Listening, communicating, expressing feelings. Good discussion, sunnflr.

• United Kingdom
1 Sep 08
I think that one of the most enjoyable things that I can do is spend time with my family. I love to spend time with my mother, see my sister, her husband and their children. It is enjoyable seeing the children grow up. My oldest nephew is just about to go to secondary school and I am excited about this. I can't wait to see how he gets on. My older son is just about to start his third year there. My youngest son will be going back to his play school for disabled children. His progress has really pleased me lately. I adore time spent walking my dogs in the countryside and taking them to the seaside. I enjoy visiting my local library because I like reading so much. I love spending time on my laptop visiting sites like My Lot. My top hobby is traveling and I go away at least once a year to an overseas location. I am glad that you are enjoying your life.

• United States
31 Aug 08
I have found that its the simple things in life that make life enjoyable. My fiance and I play online, watch tv and movies together, go to church and pray together, we also take trips to see my family together. It doesn't matter if we're cuddling on the couch or riding in the car life is always enjoyable as long as we're together.


• United States
3 Sep 08
Yep, I agree with you! Before my husband went to jail we used to complain a lot about not having the money to do what we wanted. Then he went to jail and was in there for Thanksgiving and Christmas of last year and it about killed me. I cried myself to sleep every night because he wasn't here with me and I was so depressed. Ever since he was in there, I decided not to worry about the things I don't have and be thankful for the things I do have. Family is the most important thing in life! :)

• United States
10 Sep 08
Yeah sometimes that is the way it works. I just read a book that also made me thing about being thankful for what you do have and don't worry about what you don't have. Family is more important than anything else and we have to spend as much time with those we love as we can. :)

• Philippines
6 Sep 08
You don't need money to enjoy the beauty of life. As long as you have your family nears you and you loving friends that keeps you smile everyday and a lovable wife/husband that cheers you up always. Money is important now a days but family will be the most important in ones life. In family you can find love and you will experience the understanding and caring of your family. I prefer to stay at home having fun with my nephews rather going outside and spending my time with no one. I was blessed with a loving family and I treasure them a lot.

• United States
6 Sep 08
That's great. I love spending time with my husband and son. Unfortunately, my husband has been going away for work often lately. I know his is helping people, and it has to be done, but I still miss him. We just have to do things together and enjoy each others company when he is home.

• Malaysia
5 Sep 08
hi sunnflr i enjoy the morning sun i enjoy my mothers cooking i enjoy my little garden at my apartment balcony (my jasmin flowers are blooming, and i have lotus plant too ) i enjoy eating i enjoy sleeping i enjoy television (of course with the remote in my hand) i enjoy time spent with my husband i enjoy cooking i enjoy trip to my parents (the whole family gatherd for simple bbq) i enjoy the noises my nieces make i enjoy mylotting when i start thinking ... the list is becoming longer cheers

• United States
3 Sep 08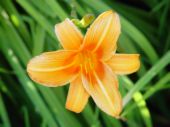 I believe that you are right. People do think that money is very important to getting the fun in life and having whatever you want. Well a lot of people might think this. I am not one of them. We do need to take the time to look around us and appreciate the beautiful world that we have outdoors. I enjoy seeing the sky and looking at nature and it doesn't cost a thing.