Do You Think Global Warming is a iSSUE?

United States
8 responses

• United States
8 Nov 06
Yes Global Warming is and will be an issue in the future. With Global warming, the polar caps start to melt. With the melting of the polar caps Ice bergs can and will occur. this will cool down the oceans to the point that it will reduce the hurricanes (this could be a good thing) however if your use to mild winters in the north those will get to be a lot worse sorta like a mini ice age. also with the polar ice caps melting this will raise the sea level and flooding the shore lines and destroying the homes of people who actually live on the shore line. I know I have hit on some of the concers of Global Warming and not all of them so that you can see why it could and will be an issue

• Portugal
8 Nov 06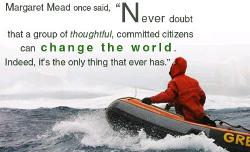 For sure is an issue, it won´t happen in my lifetime but I still care, for my son, and others sons, for the future of mankind. I´d just don´t get it why people don´t respond to this and other discussions about global warming. I´ve post one similar to this and only got a few comments. That´s bad, it´s a sign that to many people just don´t care about it. They are more interested in comment things like, "tell me a number...", this is a very serious issue and if everybody looks to the other way someday it will be to late. And we lost our precious planet earth. our mother earth.

• United States
7 Nov 06
I disagree with you. This may be an issue that we are dealing with sooner than we think. I heard a news story about this topic about a month ago, and they were saying that scientists from NASA have been watching glaciers deteriorate over the past 5 years, and if it continues, our weather conditions will worsen. The predictions that they are making is similar to the wheather conditions in the movie "The Day After Tomorrow". We will have coastal cities under water, inland cities will face droughts, and hurricanes will worsen. I personally feel threatened by this condition, and the worse part of it all is that this is something that we can prevent. So we all need to start doing our part for our environment to make sure this is something that we and our children do not have to face in the future.


• India
7 Nov 06
Yes Global warming is an issue and it is high time that we tackle this. Otherwise there will be catastrophie and our children will be witnessing the same.

• United States
6 Nov 06
Yes, i do, we use too much electricity and waste many fuels, and we burn bad fuels

• Manchester, England
6 Nov 06
Of course it is an issue, but sadly the novelty has worn off so very few people care about it anymore. Nevertheless, it has not gone away. We have all seen the difference in annual temperatures, which usually show more at winter than summer because a few degrees at winter make a significant difference. Gradually the polar ice caps are melting and ignoring them does not stop the thawing. It is unlikely to reach dangerous levels during my life time, but the situation will doggedly continue beyond that.