Would you buy a painting that a animal painted? Or let your pet or animal paint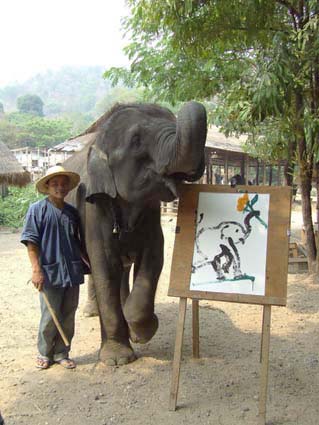 United States
September 29, 2008 11:25pm CST
I seen on television that there is a elephant,pigs,dogs,turtle and other types of animals painting pictures. Some people are letting their pets and other animals paint and calling them masterpieces which some of these paintings went for $500 each wow. I wonder if I can get my dog and cat to paint a few pictures? Would you let your pet paint and try to sell them? Here is a link about it. http://ifitshipitshere.blogspot.com/2008/04/painting-pachyderms-elephants-as.html The elephant does a pretty good job painting. The link shows the elephant painting for those who might be skeptical.
10 responses


• United States
3 Oct 08
I definitely don't think it would be something we do inside that is for sure or we would have painted prints everywhere on our floors,rugs,furniture,etc.. But thanks for the response to my discussion I appreciate it.

• Holiday, Florida
27 Aug 09

hey that would be a wonderful way to make extra money. i sure would let coco do it if i could figure a way to sell them. but i wonder how they would get people to buy a dogs painting

plus, if i put coco where they could see her, she'd just bark at them. shes not very social to strangers


• United States
27 Aug 09
I think people buy them just to be able to give back and help with charities and get something in return. I know my cat would be to busy checking the people out to wanna paint..and I am supposed to be getting a puppy soon they are 6 weeks so I am excited about that..Supposed to be Short haired Jack Russell..my mom's neighbor is giving one to me and one to my little 8 year old sister since someone took her 2 pups..

• Holiday, Florida
27 Aug 09

oh thats so great. Jack russels are such fun dogs and very sweet, people oreinted. a friend has one and she just got along so well with everyone and the dogs played and had so much fun.

• Holiday, Florida
28 Aug 09
hey alice, did any one ever tell you, you are a natural for a manager/promoter?


• Canada
30 Sep 08
I think it is cute, but no I certainly would not buy it, I don't even buy paintings from my boyfriend and his friends I cannot afford anything.

• United States
30 Sep 08
Hey Winterose, Long time no see. I wouldn't be able to buy them either. But does have me thinking of letting my cat paw paint..or maybe even tail paint. Be cute I would think. How is your cat doing..Think he would be up for it? Well thanks for visiting my discussion I appreciate it.

• Canada
30 Sep 08
no my cat always must have his paws clean he washes them several times a day. He is really strange like that.

• United States
3 Oct 08
My cat licks herself so much I am surprised she has hair that is one reason she was named Prissy because she thinks she is queen of clean..lol

• United States
21 Oct 08
I wouldn't buy them myself, but I think that is cool that some zoos can use this as a fundraiser. I volunteer with a wildlife rehab group and one of the sea lions from our center that wasn't releasable ended up doing some paintings at the zoo they went to.

• United States
28 Oct 08
Hey that is great,I think it is a great way to get the animals involved in the fundraisers with their art. I also think it is amazing what some animals can accomplish with some training. The elephant does make some good simple but nice pictures. I am surprised that they don't have monkeys making alot since they have been trying to train them for so long with sign language and other things. Thanks for the response I appreciate it alot.

• United States
6 Oct 08
That would be interesting. It would depend on hoe much I liked the painting. Sure I think I would. It would be a nice conversation piece.

• United States
6 Oct 08
Yeah it would make a great conversation piece that is for sure. I appreciate that you responded to my discussion ersmommy1. Yeah price would also effect me when purchasing a painting. I also think that the less they would be the more they would sell.Thanks.

• United States
30 Sep 08
I remember that elephant. I don't think I'd buy a painting an animal did unless maybe it was the Taco Bell chihuahua. : ) And even then it would have to be cheap. I also think Sherlock might frown on having to go to the trouble to paint. He has told me he has better things to do than that.


• United States
3 Oct 08
I can just see him running away and hiding under the bed at the thought of getting his paws dipped in paint..lol Thanks for the response to my discussion it is very much appreciated.

• United States
30 Sep 08
How interesting! In these days and times when money is in shortage. I think I would allow my pets to paint to be able to cash in on their creativeness.

• United States
3 Oct 08
Cool! Thanks for your response terri0824 I appreciate it.

• United States
30 Sep 08
You know when you said painting, I thought maybe by stepping on it? I don't know, but even so I just realized the elephant would surely break the canvas with it's might. The video didn't show up for me, well it showed a quick image and then "This video is no longer available" I wonder what a mahong (or however they spelled it) is, as I believe it had the instructor's name separate. Very intriguing, but very unlikely. Stranger things have happened, so I suppose it's possible. I would try to sale what our animals make, but they are all small, being two chihuahua's and a cat (unless we got our outside cat then it'd be two cats)

• United States
30 Sep 08
I am sorry the video didn't show for you. I will have to check the link out again. I have a kitten who would love to play in paint I wouldn't do anything toxic. I would just do finer paint maybe and let him walk through it and then bath him later. All I would have to do is put his favorite toy on a big sheet of paper and he would be playing with it for a half hour atleast might make nice picture.

• United States
30 Sep 08
Yep, and I'll tell you why. My hubby works for Sea World and they had a fund raising drive for Unicef. They had some paintings done by penguins, a walrus and a couple of others. Not something I would have purchased but my kids thought it was the neatest thing ever and it was for a good cause. So, $280 i have a painting done by pengui #87 from Sea World. I wonder how much I can get for it at Sotheby's (lol).

• United States
30 Sep 08
I Would love to see that. It is for a great cause and the money was well spent atleast you have something to remember that time by. Thanks for the response I appreciate it.

• United States
16 Nov 09
Hello Mtdewgurl. I don't know if I had 500 dollars I would spend it on a painting that anyone did much less and animal. But I think it is cool that they can do this. Heck I can't paint a straight line I wonder if my dog can do any better then I can....LOL. I don't know anyone rich enough to spend that kind of money on a painting. Did you let your cat and dog paint for you? The link isn't any good I tried it but it said the page couldn't be found. Have a great day!



• United States
17 Nov 09
My dog..no..my cat yes..and my cat was very offended that we put paint on his paws..it was non-toxic paint..but as soon as we let him done on the paper which was outside..he took off and we didn't see him for a few hours..no paint..lol