Do you love to eat "okra"?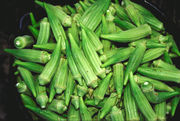 Philippines
October 1, 2008 12:04am CST
I love most of vegetables because it is good for the body and it is much cheaper too. But there are some vegetables that are not good in our taste like bitter melon(ampalaya) because of it has bitter taste. But it is good especially to those who are diabetic persons. Okra said to be the "King of summer vegetables" and it is also known as Lady's Finger. Many people doesn't want to eat okra because it has sticky texture when cooked but it is said that it is a proof that okra is a nutritious vegetable. Because it is said that sticky vegetables have the most compositions of vitamins and minerals. I love Okra even boiled only in a hot water and serve with tomato and fish sauce. Do you love to eat Okra?

4 responses

• Philippines
2 Oct 08
I don't eat Okra. it was so sticky. and I also don't want the taste. but I love eating saute bitter melon with egg. yummy!

• Philippines
1 Oct 08
I love this vegetable more than the bitter melon(okra). I don't find it bitter but I like the texture especially that gluey sticky juice it produce where others find it disgusting when they eat it. Yeah same here just boil it and I can love it more than anything else. I also loved it mixed with other ingredients in sinigang and other menu.

• United States
1 Oct 08
I love okra. It is good fried or boiled. I love it in soups, because it just adds something that no other vegetable can. I don't mind the slimy taste of boiled okra. My grandmother used to can small okra pods to boil. I'd always hope she'd have boiled okra when we'd visit. It was one of my favorite things she cooked.

• Philippines
1 Oct 08
I love OKRA, during the weekends, there is an agro market nearby where fresh fruits and vegetables freshly picked and sell out by farmers themselves. As I have heard it, like other vegetables okra has been capsulated like malungay since it is rich in fiber taht help stabilize blood sugar.

You see, this can be very helpful to our intestines at it helps bile movements. I love to eat okra especially for pinakbet and other traditional viand. Why resort to something expensive when we can have them delicious, cheap and nutritious !