Which you like most Bibingka or Puto Bumbong?

Philippines
October 2, 2008 6:36am CST
Christmas is fast approaching. And soon the Simbang Gabi is already there. We all know that Bibingka and Puto Bumbong are the two best selling food during those days. Bibingka is baked in a specially-made clay oven, with hot coal as a source of heat, placed above. Before being served, butter or margarine is spread and sugar is sprinkled over the Bibingka. It is typically served with grated coconut. Puto Bumbong is a purple colored Filipino dessert made of sweet rice cooked in hollow bamboo tubes, that are place on a special steamer cooker. When cooked, they are removed from the bamboo tubes spread with butter and sprinkled with sugar and niyog (grated coconut). They are usually served in banana leaves. I like Bibingka more than Puto Bumbong. I find it more delicious than Puto Bumbong. Which of the two you like the most? Do you always buy them during their season?



10 responses

• Philippines
3 Oct 08

hi there warrior_777... I both like Bibingka and Puto Bumbong. I love those kind of foods especially our native delicacies. Most of our food, like the two are made from coconut. I'm a big fan of coconut products so I love every kind of food made from it. But I really appreciate the Bibingka more since it is the first ever delicacy I ever enjoyed, I don't grew up eating those kind of foods since my parents will always have the imported products at home but when I stayed in our province and learned about those kind of foods I just can't help but fall inlove with me. I swear they are the delicious food I'll never get tired of eating! Happy mylot!


• Philippines
4 Oct 08
Hi there jeiyah_12..

We can really be proud with our local foods like bibingka and puto bumbong. They have the taste that we can be proud to served and give to some foreigners who will visit in our country. They are really delicious..



• Philippines
2 Oct 08
I love puto bumbong!!! I always look forward to the Christmas season and I'm always excited to buy puto bumbong even if I don't attend Misa de Gallo. I could eat 4 packs in one sitting and I can have this breakfast for the whole week and I won't get tired of it. Maybe its because I only get to buy this in December.

• Philippines
4 Oct 08
We only have them both during ber months so we want to make sure to have them as much as we can, we know they are only available during that time, after their season we will surely miss them.

Yes they are good in breakfast with hot coffee or hot tea.


• Philippines
2 Oct 08
For me I love both but whenever Christmas time is near, I always make it a point to eat puto bumbong since I can buy bibingka all year round while puto bumbong is only available in -ber months. That's how it is in my place.

• Philippines
4 Oct 08
It's really sad that Puto bumbong and bibingka are only available during the ber months only. But good in your place that bibingka is available all year round, you only miss puto bumbong.

• Philippines
2 Oct 08
I prefer Puto bumbong most of the time, but i also love bibingka.They are both delicious. Naku parang gusto ko tuloy maghanap ng puto bungbong at bibingka ngayon..Kagutom naman ang post mo (lol)

• Philippines
4 Oct 08
We both feel hungry with bibingka and puto bumbong in mind he he..

Have a nice day..


• Philippines
17 Aug 11
I love both bibingka and puto bumbong! I saw this topic and I can't help to comment since I am missing this food already. Thank God, September is nearing and Christmas is on the air once again. Can't wait to eat this native dish during the Simbang gabi!

• Philippines
15 Aug 11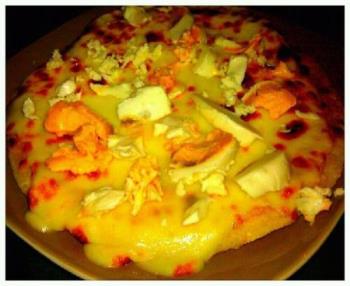 This is a three year old discussion but still tastes very yummy. A Pinoy can't resist the temptation of bibingka and puto bumbong. They are really two of the best Filipino native foods. I am just sad that they are only easily available during the Christmas season. If you wanna eat them during off season, you have to pay a good price in some chosen restaurants. As for me I love both. I can enjoy eating lots and lots of puto bumbong and bibingka if they are cooked by my "suki".


• Philippines
5 Oct 08
Hi there warrior! What a mouthwatering discussion you have!? I love both puto bumbong and bibingka especially the own recipe of my grandmother. I think she's bibingka and puto bumbong is the best I ever taste. I always missed puto bumbong and bibingka because my grandma prepare them both during ber months only. Happy mylotting....

• Philippines
4 Oct 08
Oh definitely "Puto Bumbong". Particularly during Christmas Season, I love the fact that you buy these food at dawn after waking up from a good gloomy sleep that the season can give you. The taste just blends with the athmosphere of Christmas. I love it.

• Philippines
4 Oct 08
[b]i really love both...it's a filipino delicacy that we should really proud of...it's really yummy and very much healthy foods...lol!

it reminds me, i haven't eaten yet, it makes me hungry...lol!

happy eating! God bless![/b]


• Philippines
3 Oct 08
Hi, I haven't tried eating Puto Bumbong, there's no one cooking it here in my city or if there's one I don't know where. Because Puto Bumbong is very Tagalog (Filipino)in nature and learned that in school but here in the Visayas it's not that popular. I don't know in other Visayan cities. Bibingka is always around Christmas or not. I like Bibingka all kinds. I even spread chiz whiz on a plain bibingka.