How many Camels are you worth as a woman? :)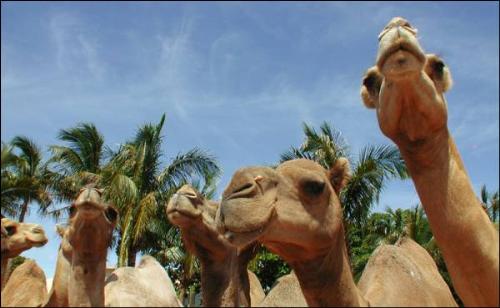 Romania
November 1, 2008 8:06pm CST
2 female friends of mine went to Egypt, on different trips at different times, and their fathers / guardians, were offered some number of camels, for the girl's hand in marriage. These are 2 very attractive young girls, brunettes, healthy, beautiful and well educated. The offer for one was 16 camels and the other states it was over 100 camels, but was not sure of this number. I think it's a little high myself :P Ladies in the audience, has this ever happened to you? :) Have you been to the Middle East? How many camels were you worth? Guys, any of you from the Middle East? Have you bought wives or gave daughters in marriage that way? For how many camels? Do you have any tips and tricks to get a good price? Happy camel trading everyone :P
3 responses

• United States
2 Nov 08
Hahahaha! I am afraid that was not my experience in Egypt. A male friend I was with had just purchased a bunch of hashhish. We had made the deal sitting on the banks of the Nile, and as we sat there smoking some of it with the tour guide who had set the deal up for us, more and more men appeared and positioned themselves all around us. I started getting a very weird vibe and looked around behind me just in time to see a guy with a long cloth wrapped around each hand, raised just up behind and over my head! He dropped his hands quickly and pretended to be doing something, but I swear he was about to grab me by the neck with it!!! I didn't want to make a scene so I jabbed my friend in the ribs and suggested quietly that we leave. He took a look around behind us and agreed. We said polite goodbyes, thanked the dealer again and took off. Well, every one of those men followed us. It was early evening and as they walked along behind us some of them were coming up beside me, jabbering something really fast in their own language. I tried not to look over at them because I could feel the intention, but I could not resist the pull and sure enough they had their d!cks in their hands and were jerking off walking right down the middle of the road!!! So, based on that experience I would have to say I was not worth any camels at all!



• United States
2 Nov 08
Hmm I am thinking that they were about to kidnap you and see how many camels they could get for you! That is what I am thinking!

• United States
2 Nov 08
Hahahahaha! I like your thinking here a lot Shellyann!! Now I do not feel so worthless!! Too bad that we thwarted their plans though, because now I will never know how many camels I am worth as a woman!!!

• United States
2 Nov 08
I've never been to Egypt, but now I kinda wanna go just to see how many damn camels I'm worth. At least a couple I would hope. :)

• Canada
2 Nov 08
i think the word offer would be kind of confusing. maybe you meant the word gift. In asian culture, people would gift food. The pork is very symbolic. When the guy's family give the girl's a whole pork (entire body meat) for the evening party, it measn they respect you and they are accepting you. However if only the pig's head is given, it means you aren't worth alot. I know some girl got pregnant before the wedding so they had to marry. The girl lost respect so the family still let the wedding happened and they gave her a pig's head. This is some way to show how they feel verbally. And nop I don't know how many camels i am worth. hmmm I like to eat, ...don't know how to cook..., likes to watch anime, have a university education level, and i am open minded. I hope this will be alot of camels up :P

• Romania
2 Nov 08
Well if I understood correctly, it wasn't a Gift exactly, that camel number is up for negotiation. The young loverboy might say, I'd like your daughter's hand in marriage, I will give 50 camels to your family for this honor. And the father may agree, or he may say no, my daughter is worth at least 100. Or the father may say nothing, but another Egyptian might come and say I too would like her, I'll give you 200 camels for the hand of your beautiful daughter. And then the father might be more open, seeing how this man is from a strong rich family. Of course now he might say she's worth 300, if he doesn't like the guy :) But I do hope some Egyptians will show up soon and explain to us how all of this works :D Do you still have those kinky Japanese school uniforms? I think that dressed in that you'd be worth a LOT of camels on the wife market:D