Coffee Maker Size, I Know Who Cares.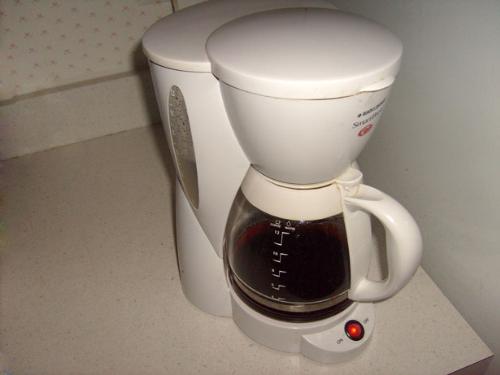 United States
November 26, 2008 8:57am CST
I started a discussion once on where do you park your car at home. And one of the response I got was who cares. I know some of the discussions are non interesting just that curiosity gets the best of you. And I am curios about this one too I know who cares. I am on my second cup of coffee this morning and I am curious what size coffee maker do you have? I have two but I mostly use one of them and that is the small one. I have a 4 cup size and a 12 cup size. My favorite is the 4 cup size. I am asking what is the size of your coffee maker and how many cups of coffee you drink a day?
8 responses

•
26 Nov 08
I've got a 12-cup, but I need a bigger one because I drink it by the gallon pretty much.

Especially in cold weather.

•
26 Nov 08
Not really sure; Chicago is a couple hundred miles north of me. I'm in southeastern Illinois, and it's a wee bit chilly.


• United States
26 Nov 08
I use a 12 cup coffee maker because, on a normal day, I drink at least 12 cups of coffee

Some days I make a second pot because Shelly decides to have more than one cup. I use a normal sized cup, Shelly uses a very large cup, equal to two of mine


• United States
26 Nov 08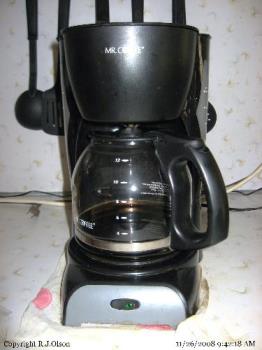 I have just one. It is a MrtCoffee 12 cup auto drip maker. I drink maybe 5 pots a day most times. I am trying to talk my wife into buying one of thos 40 cup electric perculator coffee makers. Make it in the morning and turn it off when done. Just reheat the cups as I need to is all. HAPPY POSTINGS FROM GRANDPA BOB!!~

• Defiance, Ohio
30 Nov 08
I wouldn't say who cares. But I will say i don't drink coffee. There for eI do not own a coffee maker. There fore I can answer your question. But I did want to be included in your discussion. So, I decided to leave this comment.

• United States
27 Nov 08
we have a twelve cup coffee maker. and after i finish this response i'll go for a fill-up,lol. it is usually on most of the day, normally there is two to three pots of coffee made in a day. i probably drink 4 - 8 cups a day, and can still go to bed at a reasonable time.


• United States
27 Nov 08

I have a 12 cup coffee maker and I use it alot! I drink at least 2 full pots a day, sometimes more.

•
26 Nov 08
Hi Chevee, Well I don't have a coffee maker, I drink instant coffee, I just boil my kettle and put a teaspoon of coffee in a mug and pour the water in and add milk, I don't have any sugar with mine and I have two mugs of coffee, a day. Tamara