Anyone for Charades? Monopoly? Trivial Pursuit maybe?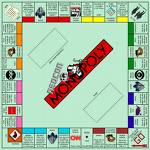 December 26, 2008 6:10am CST
When I was younger it was almost tradition to play a board game after the Christmas dinner. This year for us it was the PS2 which we had for Christmas. A myLot friend told me today that they were playing on the Wii on Christmas Day. Have all the traditional board games gone out the window on Christmas Day? What games did you play after your Christmas dinner this year? What do you remember playing on Christmas Day when you were younger? Do you think that more traditional games like Charades and Monopoly are games of the past for playing on Christmas Day?
7 responses

• United States
26 Dec 08
I played monopoly and life. Twister was fun too. I think that with all the new technology board games are definately becoming a thing of the past. I still however try to work them in in my family. Once a week me and my 10 year old girl hunker down to a board game.

• United Kingdom
26 Dec 08
They have Monopoly online now as well as computer games for it, but it's still not the same, I much prefer the board version of Monopoly. You are right though board games are getting less and less common which is a shame because it brings families together and around the table, now it's all computer games and they are more solitary than family games aren't they.

• United States
26 Dec 08
Yeah, that's right - they are a way for the family to get together and have a lot of fun instead of just sitting there working ones thumbs into oblivion. When my GD comes over, we do board games all the time. I let her do software games from time to time, but she loves the board games just as much. They have Monopoly in a large variety of venues now - NASCAR, I Love Lucy (I have that one!) and the list goes on. My daugher just bought the one of Malls and Boutiques! I haven't played it yet, but apparently the usual "houses and hotels" are boutiques and malls in this version! But you can get so many versions - there is one themed after many TV shows and social events - one of Elvis and the Beattles I have seen in catalogs. But this new one where there is no money (dollars) changing hands as it is all ATM now, just is a disgrace to Monopoly. And the prices of the properties are in the millions... Sorry, that is just not Monopoly and a total digrace to a huge wonderful family tradition

• United States
26 Dec 08
Computer and video games are definately more solitary! I laugh alot more when I play board games I do know that. When I do video or computer I'm all intense and trying to concentrate.No need for that with board games. Just laid back and easy fun. My little one loves it. I knew there were alot of varieties but this is the first I heard about an ATM in monopoly! That's strange. I like the original way of playing. I do think the little mall pieces or nascars would be cute though.


• United Kingdom
26 Dec 08
Years ago our family used to play cards, we would play cards every night between Christmas Eve and New Years Day, it was entertaining and enjoyable, the three of us would sit down with a drink each, some nibbles and have a good game of cards, that was when my father would actually turn the television. When I was much younger we used to play for pennies as well. We'd play Newmarket, Estimation and other card games. Sadly now that has stopped because dad prefers to watch tv, smokes too much and coughs too much.

• United States
26 Dec 08
I loved card games too! Do you remember Pit? That was the one with the stockmarket kind of play = where you had to collect X amount of cards of the same things (corn, wheat, rye...)and when you got the X (I think it was 7 of hte same thing) you got to yell "CORNER ON....." and you won! That all the while all players were trying to trade what they didn't need by just flashing the upside down cards and saying hte number of them so others could exchange for the same number of cards, just not knowing what the cards were. SOOO much fun!

• United Kingdom
26 Dec 08
Never played Pit to be honest, I do remember Uno as well. I love whist but you need four people for that game, I used to go to Whist drives in my teens, I think card games are great for bringing friends and family together, rather than computer games.

•
27 Dec 08
Hi wolfie34 I am a big card player too! I am not too keen on cheat though because I find it hard to bluff! Cribbage, whist, black jack and rummy are my usual games. We should get together and have a game sometime wolfie! I have never heard of Pit! Thanks my friend


• United States
26 Dec 08
I have been asking that same question. Where are the wonderful, fun, exciting, hands on board games these days! I remember in my younger days - we'd play Monopoly - literally for days! We'd just slide it under the bed when we got tired of playing it and pull it out day or so later! We even created our own board games, made the board, tokens, pieces..everything! How much fun it is to actually do it and use your brain and be moving and interactive - with other players instead of just your fingers doing all the work! I have several board games for my 8yo grand daughter and she just loves them! We even change things and make up a new games using the same peices. She loves Monopoly - I have the I Love Lucy version and the original version. I just got her Picturika which we havent played yet as she hasn't been here yet and CandyLand - my fav as a kid, my daughters fav as a kid and now her daughters fav as a kid! Clue and Scrabble - yep - we play those to! At my house, the tv hardly goes on at all - no games for it - we do board games. At my daughters house, my GD has Wii, Playstation, game boy and computer games... and she got a cell phone for christmas and learned to text. Yesterday she came over complaining her arms hurt - well duh! All that finger motion and all would make anyones arms ache! Mom buys all these games, lets them play then when the kid gets hooked, mom gets tired of it and the fights begin! But not with a board game - there is most always an ending to the game and time to move on to other things in life. Years from now, betcha people will be having big problems with their thumbs/joints and movement - you young guys - get an education in bone/joint medical area cause you wil be able to make buko buckos 10 years from now!

•
27 Dec 08
Hi ya coffeebreak We have to keep it to simple board games for my kids because they are only 3, 5 and 7 so that all of us can play, we keep the harder games for me and my mum to play! I didn't have aching hands yesterday but my backside was hurting from sitting on the floor!! Thanks for your response


• United States
27 Dec 08
My GD are 2 adn 8 - but they both love CandyLand. I bought the version this year of My Little Pony and athe markers are the ponys so they both love that. My 2yo is just starting the gaming world but the 8yo..she loves board games alot.


• United States
27 Dec 08
It is pretty much like the game Simon if you have ever played it. It kind of looks like a Rubiks cube, but the pieces don't move. There is a square in the middle of each side that is indented. The indented squares light up and you have only a split second to push the button at the bottom of the indented square before you lose. There are different levels you can play too I guess. http://www.rubiksrevolution.com/

• Spain
6 Jan 09
I think so many of the good xmas traditions are now gone and people actually forget what it is all about, I cant remember the last time we all sat down as a family and played a board game my kids dont even ask for them anymore! It is such a shame that these things are soon to be a thing of the past


• United States
26 Dec 08
Hey there humbug25, I love playing video games but I still enjoy the occasional board game too, I own monopoly and the game of life, I dont think its a thing of the past yet, but it could be I think that people should just show there kids how much fun it can still be to play a board game together I think its also a great fun way to bond with each other I used to play a game called sorry, when I was little it was sort of fun, but it got on my nerves a little, but I like playing monopoly and checkers and card games, that sorry game used to annoy me when I was a kid, LOL

but yea board games over all are still fun.


• United States
26 Dec 08
We always do a jiggsaw puzzle in the morning. We begin it at least. It usually takes 2 days. We also have a big canasta game in the afternoon. It's my favorite card game, but not alot of people know how to play nowadays. Then we always hit a movie on the day after.