The ice is so beautiful! Here's a shot of my neighbor's tree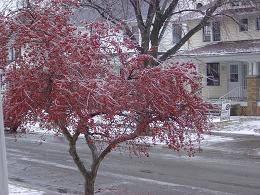 United States
January 10, 2009 10:55am CST
I don't know what this tree's name is but its berries are beautiful, especially covered with ice as it is now. Later, there will be snow! Bad driving weather but so lovely to look at! Does anyone know what this tree's name is? I'd like to plant a couple in my yard.
4 responses

• United States
17 Jan 09
There is no snow in my area. We have having a nice day so far just hope the heat wave is done. This area has had record high temperatures and my plants are growing again.

• United States
17 Jan 09
I hope it doesn't get cold and ruin your plants! I couldn't tell where you are from your profile. I'm ready for some warm weather! Two more months of winter then the Spring will arrive. I love having four seasons!


• United States
17 Jan 09
Southern California where the lemons are grown. We love the citrus trees.

•
17 Jan 09
Why don't you ask your neighbour what sort of tree it is? It's certainly beautiful. We've got heavy ice and frost in the mornings here as well just now. Yesterday I passed under a bridge which sits in shadow and doesn't get the benefit of sunlight during the day. Well the icicles hanging under it had to be at least a couple of foot long. Amazing to see, and really pretty with the stream still running under.

• United States
17 Jan 09
Can you believe nobody in the neighborhood knows what kind of tree this is? I would like to get a couple for my back yard! Right now that pretty tree is not only covered with ice but full of snow as well!

• United States
10 Jan 09
I dont no what it is but it is really pretty.I am not to good with trees or plants but i really ike that.

• United States
11 Jan 09
No one seems to know what it is! It's beautiful in the spring when it blossoms as well as the rest of the year. I wish there was someplace we could upload a picture and have it identified!

• Philippines
10 Jan 09
im from tropical country, we dont have snow. but we do have a lot of trees in my country. its a beautiful tree with snow. i havent seen a snow in my life. once, i saw here in my country but its manmade. still its a snow. i've been to travel but just in asian countries. i just hope to see realy snow soon. hahaha

• United States
10 Jan 09
I have heard your country is very lovely! I love the snow and winter is a short season. By the time I'm tired of the snow, Spring comes with all its flowers and warm weather. I hope you get to see some real snow someday, there's nothing like it!